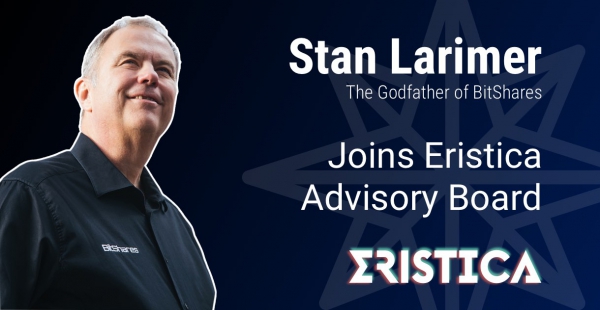 - December 21, 2017 /PressCable/ —
Eristica, the renowned P2P platform for video challenges, has announced that Stan Larimer, the godfather of BitShares, has joined the ICO for the first time. He has joined the team at Eristica as an advisor, and has never been an advisor to any other company before – representing an exciting opportunity for the company and its clients. If Stan Larimer is interested in Eristica, then everyone else should be too.
More information can be found at: https://eristica.com
The company is a P2P platform for video challenges, leveraging the technology of blockchain and smart contracts to give users the most fun and profitable way to participate in challenges all over the world. It provides local people with the most viral video content on the market.
Eristica allows users to undertake real challenges where cryptocurrency is a prize. It is disrupting a multi billion dollar video content market with challenges on smart contracts, and with the popularity of cryptocurrency rising, represents a hugely exciting time in the industry.
The site explains that Eristica is a global decentralized platform of personal and mass challenges all backed by smart contracts. Using blockchain technology, the project allows users to undertake the unlimited amount of challenges and transparently take part in them.
Users win ERT, an in-game currency that can be won for successfully completing challenges or for predicting the outcome successfully. Through using these tokens, users can participate in challenges with celebrities or use them to buy access to ecosystem services.
The platform currently has 1.2 million users, and allows people to dare each other to take on impossible challenges, while recording themselves.
Stan Larimer is the co founder of BitShares and Cryptonomex, and is on board to take Eristica to the next level. This is big news in the ICO world, as he is responsible for the blockchain technologies that currently process over half of all public blockchain transactions in the world.
He has 40 years' experience in software, hardware, and business development, and is a guru when it comes to all manner of crypto currencies. Full details of the acquisition and the project can be found on the URL above.
Release ID: 280407