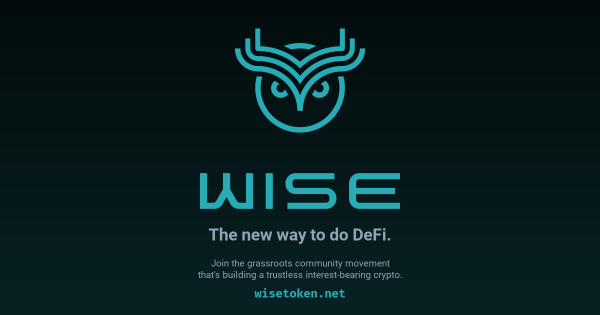 - December 22, 2020 /PressCable/ —
Wise Foundation announced an update of its WISE project for cryptocurrency investors interested in a decentralized staking platform suitable for long-term investment. The platform uses the Uniswap protocol to generate its main liquidity pool, offering flexible Ethereum transaction options and allowing users to buy and sell WISE tokens, as well as stake crypto for long-term growth.
More details can be found at https://cryptodefiwise.live/wise-9b704.
The latest announcement aims to provide crypto enthusiasts with an engaging platform that can be used to diversify their crypto portfolio and explore various blockchain investment strategies.
At the core of the WISE project is a large liquidity pool designed to be ownerless, meaning that no one single entity controls it. The pool allows investors to buy or sell large amounts of tokens without slippage, thus eliminating the risk of losses during transactions.
The platform also provides a convenient staking option. "The longer you stake, the more interest you earn," explained a spokesperson. "You may access interest at any time for no fee, but ending a stake early penalizes the principal. All fees and penalties are redistributed to other stakers."
The staking duration can be extended to over four decades, making the project a suitable choice for investors interested in long-term crypto investment opportunities.
The WISE project has been created on a highly decentralized platform which is fully audited and free of admin keys. The source code has been validated by a team of professionals undertaking cutting-edge procedures to minimize the risk of hacking attacks, bugs, software malfunction and other potential issues.
To develop an engaging and intuitive platform, WISE has been built on established game theory principles that make it interesting for gamers and developers.
Prospective cryptocurrency investors can join the platform for around $10 in Ethereum, making WISE investment affordable and suitable for beginner crypto traders.
The project is transparent and can be examined without any restrictions by anyone interested in the way it has been structured.
With the latest update, Wise Foundation continues to invest in the development of high-quality crypto projects based on secured, 100% decentralized technology.
Interested parties can find more information on the full range of features by visiting the above-mentioned website.
Release ID: 88990907