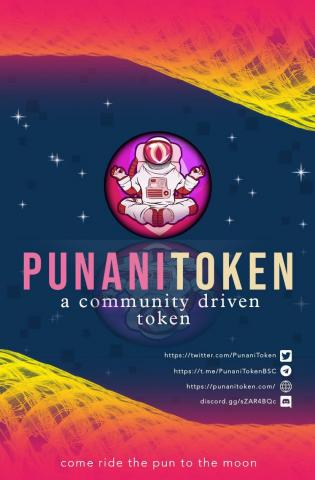 - June 16, 2021 /NewsNetwork/ —
Punani Coin, a community-driven cryptocurrency, has launched its list of milestones based on its number of token holders. Milestone events include deciding which non-profit the community will benefit, and giveaways at various market caps.
To learn more please visit https://punanitoken.com
The milestones launched by Punani Coin are half unlocked currently, and include applications for various crypto-related services, as well as community decisions. The other half of the milestones remain to be detailed at 10,000, 25,000, and 50,000 token holders. A special announcement is planned for the 100,000 holder milestone.
The coin has security against collapse through locked-in liquidity for six years. Every purchase of the coin includes a small transaction tax that is used to build the price floor of the currency. 3% of each purchase is reinvested into the liquidity of the coin, while 6% is redistributed back to the token holders.
A major goal of the Punani Token community is to give assistance to those who need it. The community works with various charities and organizations they deem helpful to the world, focusing on those organizations that deal with diseases and women's social issues. Of particular concern to the Punani Token community are foundations that are working to help with infertility and cervical cancer.
Recently Punani Tokens have been partnering with various visual artists to commission and create NFT's or non-fungible tokens. These are online assets that have become increasingly popular recently within artistic and tech communities. Punani Token is set to announce a new partnership soon with what they describe as "one of the icons of a key element of Hip Hop."
Some of the recent collaborations between Punani Tokens and artists include Shivam Chauhan and Chicago-based artist Romewon. There are also some original creations from the founder of Punani Tokens, who goes by the name Mr. Crypto. To see these NFT's, or to find the latest news on Punani Tokens, a Twitter feed dedicated to the cryptocurrency is available here https://twitter.com/PunaniToken
For those wishing to join the Punani Tokens community, there are only a few simple steps. First, a cryptocurrency wallet is required, and then funds, before users can begin purchasing Punani Tokens. Full details about how to set up a wallet, and join the community, are available on the Punani website.
For more information please visit https://discord.gg/ECrKz5zWxb
Disclaimer: The information provided on this page does not constitute investment advice, financial advice, trading advice, or any other sort of advice and it should not be treated as such. This content is the opinion of a third party and this site does not recommend that any specific cryptocurrency should be bought, sold, or held, or that any crypto investment should be made. The Crypto market is high risk, with high-risk and unproven projects. Readers should do their own research and consult a professional financial advisor before making any investment decisions.
Release ID: 89028795