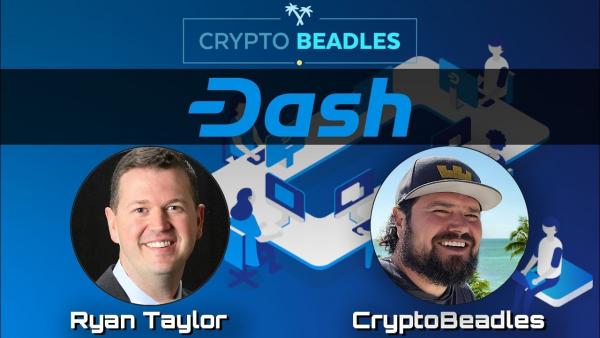 - September 24, 2019 /PressCable/ —
Crypto Beadles is known for gaining access to the top movers and shakers in the Cryptocurrency/Blockchain industry and interviewing them for his top-rated YouTube channel. This interview is with Ryan Taylor, CEO of Dash. For those not familiar, Dash is digital cash. According to their website, you can "move Dash in a second for less than a cent. Any amount, any time, anywhere."
Click the link to watch the interview: https://www.youtube.com/watch?v=nbltdB-6eYw
Mr. Taylor starts the interview by discussing the history of Wall Street. Crypto Beadles and Mr. Taylor talk about more current events by referencing the recent press conference by US Secretary of the Treasury, Steven Mnuchin, where he addresses cryptocurrency.
Secretary Mnuchin talks about how money transmitters of cryptocurrency must comply with the relevant Bank Secrecy Act (BSA) and register with the financial crimes network known as FinCEN. It is a bureau of the US Department of Treasury. FinCEN's mission is to safeguard the financial system from illicit use, combat money laundering, and promote national security through the dissemination of financial intelligence. They have collected over 300 million BSA reports in the last 11 years. He also established the Financial Stability Oversight Council's (FSOC) working group on digital assets. It allows US Financial Regulators like FinCEN, the Fed, OCC, CFTC, CFPB, SEC and others to work together to combat risks posed by cryptocurrencies.
Everything wasn't negative for cryptocurrency however, as he also had this to say. "To be clear, the US welcomes responsible innovation, including new technologies that may improve the efficiency of the financial system and expand access to financial services." ~Steven Mnuchin, US Secretary of the Treasury
In the next part of the interview, Ryan goes on to break up how Dash rewards miners versus how other cryptocurrency and blockchain technologies like Bitcoin reward miners. The rewards that he is discussing are known as "gas" and are fees that go to computers on the network that help facilitate cryptocurrency transactions. Most cryptocurrencies give it all to the miners. Dash, however, divides it 45% for miners, 45% master nodes, which helps with scaling, and 10% goes to the proposal system. Breaking up rewards like this helps the network, scaling, sustainability, stability, etc.
Dash has just rolled out version 0.14. They have made improvements to their Instasend feature, as well as chain locks. Mr. Taylor compares their Dash to Bitcoin's challenges. Ryan also goes into detail about how Dash has a Masternode layer and how it works by different systems voting on new nodes to show whether they are familiar with it. When 60% have seen a block, then it will decide if it is "legit" and lock it in. That way, fewer confirmations are needed before it's locked. These confirmations create security benefits.
Crypto Beadles asks Mr. Taylor about how they are getting Dash out into the marketplace. Ryan discusses how Dash has been working with the cannabis industry. This industry has challenges since it's legal in many states now, but still illegal on a federal level. He goes on to discuss how Dash is the most used cryptocurrency in Venezuela. Merchants are using it since the economy is doing so poorly. Dash is also focusing on high chargeback industries like gaming.
For viewers familiar with Crypto Beadles' interviews, the next part will come as no surprise. He likes to get to know the whole person, not just the CEO and corporate side of things. Ryan Taylor discusses his hobbies of going to the mountains to mountain bike and crawdad fish to get away from the Phoenix heat. He also loves reading books about physics and quantum physics.
ABOUT CRYPTO BEADLES
Beadles is a Christian, father, husband, successful serial entrepreneur, seasoned business builder; prominent Blockchain & Cryptocurrency educator on TV, YouTube, TradingView Sessions, and throughout the world. Beadles is the builder and Co-Founder of the Monarch Wallet, MonarchPay and is a member of the C4 Crypto Consortium. He is an avid believer in Cryptocurrency, Blockchain technology and offers some of the most in-depth, educational, unique, and insightful content available. Make sure to check out his official website CryptoBeadles.com for all things Cryptocurrency & Blockchain related.
Release ID: 88921938