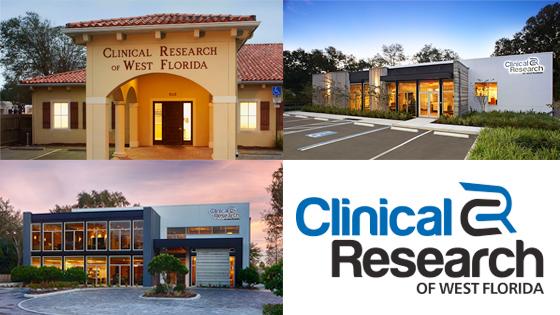 - March 18, 2019 /PressCable/ —
Clinical Research of West Florida, Inc. partners with ClinicGrower to streamline and innovate clinical trial recruitment in Tampa Bay
[TAMPA, FL, March 19th]
Clinical Research of West Florida, Inc. has partnered with ClinicGrower to provide clinical trial recruitment services across Tampa Bay.
ClinicGrower, a leading healthcare marketing agency, creates and executes results-orientated strategies to help clinical research companies with recruitment and database growth efforts. Headquartered in Tampa, they work with sites and CROs across the country and their innovative marketing services are gaining a lot of attention within the clinical research industry.
President of Clinical Research of West Florida, Inc. Aydin Keskiner, said: "We are delighted to collaborate with ClinicGrower – this partnership is another example of our commitment to innovation and growth. We believe that this collaboration will help increase awareness and strengthen our clinical research efforts of developing new treatments and medications for diseases and conditions to improve the lives of patients in our communities."
ClinicGrower Founder & CEO, Bref McHugh, said: "We are very pleased to be collaborating with Clinical Research of West Florida to increase awareness, educate the market and connect more patients with clinical trials in Tampa Bay. We continue to refine our patient-recruitment and database marketing systems to help connect more people with clinical trials."
"We leverage the power of social media platforms and online communities to start a conversation with people interested in clinical research studies" explains McHugh. "We create a system that attracts new study volunteers, engages them and tracks the conversation. It's all about results and helping people solve a problem. We just managed to create a program to do this and we're very happy that it's working so well."
Clinical Research of West Florida, Inc. noted that innovation was a key driver in forming this partnership. "There is an accelerated rate of innovation within pharmaceutical medicine, and as we continue to embrace technology, we look for ways to accelerate our patient recruitment and marketing efforts. ClinicGrower works closely with our marketing department and recruitment team and the system they created has been very successful for us".
About Clinical Research of West Florida, Inc:
Founded in 1995, Clinical Research of West Florida, Inc. (CRWF) is a dedicated research company, conducting Phase I-IV clinical trials. As Tampa Bay's premier clinical research company, CRWF has conducted over 1,000 clinical studies in various therapeutic areas. Excellence in clinical trial conduct, patient safety, and advancing medicine for future generations are the guiding principles of the corporation.
CRWF's commitment to the Tampa Bay community can be seen in North Hyde Park, as construction is underway for CRWF's new, state-of-the-art, 6,000 sq. foot, dedicated research facility. The new facility is slated to open late Fall 2019 and will provide the much-needed space for their growing clinical operations. CRWF's new location is a collaboration between CRWF, ABI Construction, Behar + Peteranecz Architecture, and Jill Lifsey Design.
###
If you would like more information about this topic, please call Clinical Research of West Florida at 727.466.0078 or visit https://www.crwf.com
Release ID: 492887