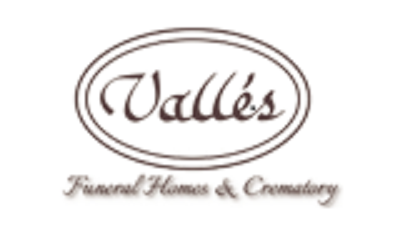 - January 26, 2018 /PressCable/ —
Valles Funeral Home & Crematory is a trusted, family owned and operated funeral services provider with more than 50 years of experience working with families in the Hialeah Fl area. The funeral directors of Valles Funeral Home and Crematory serve Hialeah, FL with compassion and respect. Offering dignified funerals and memorials ceremonies, they have everything needed to properly commemorate a loved one when choosing cremation. Their services are meticulous and delivered at an affordable price. Please contact them at 1-786-828-5253 to arrange cremation, to help you personally design cremation service and memorialization options that will meet your individual needs. Details about their cremation options can be found at http://www.vallesfuneralhomeandcrematory.com/services/cremation-services/ Also included with the services provided with direct cremation is private witness of cremation by members, scattering of remains and other services.
Valles Funeral Home and Crematory includes all normal and necessary expenses for cremation. Valles Funeral Service offers International Funeral Shipping / International Mortuary Shipping for your loved ones. When you contact them for assistance, a funeral director will immediately assist you and answer any questions you may have.Their funeral directors are expertly trained in international mortuary transportation logistics and can make tough and stressful times much easier on you and your family. International human remains shipping can be challenging but their experience and expertise will make this difficult time of your life much easier. Valles international funeral shipping services has expanded where they ship to any country in the world.http://www.vallesfuneralhomeandcrematory.com/services/international-ship-out-services/
The funeral directors of Valles Funeral Home and Crematory also offer traditional burial. The service includes embalming, cosmetology, dressing and casketing are all performed. In addition, the use of our facility's funeral chapel for 2 hours for the Public viewing the night prior to the service.
For tribute services, the funeral directors of Valles Funeral Home and Crematory offers 365 Days of Healing. Finding support can be as simple as entering an email address. Learn about their messages and sign up to receive daily advice, stories, and comforting words to help you take the healing process one day at a time
Release ID: 292801