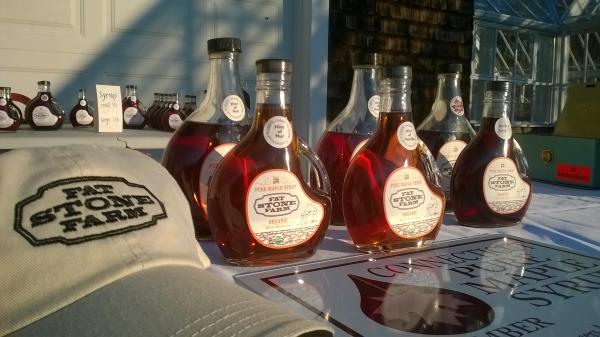 - September 26, 2018 /PressCable/ —
Lyme, Conn. – Fat Stone Farm today announced a second office location as a new addition to the company. The space, which is a fully renovated 2nd story chicken coop that overlooks the shipping center, solves the growing business' need for additional space to share their products with retailers and customers across the nation.
"This white-oak paneled chicken-coop turned office rivals some living rooms that I've seen," said Bill Farrell, co-farmer of Fat Stone Farm. "The chickens left a few years ago, leaving this space a sparkling clean location for us to better execute our production."
Founded in 2003, Fat Stone Farm grows certified organic elderberry, baby ginger and produces maple syrup all available for purchase in various retail stores and online. In addition, the farm is dedicated to their roots with no intention to mirror the sprawling scale of their factory competitors.
"We've committed to growing as many of our ingredients as we can and to remain a small sustainably managed farm," said co-farmer, Liz Farrell. "Our elderberry syrups will always be in limited supply, but our customers can count on enjoying the best quality product."
With just under 11 acres on the farm, elderberries and maple are a natural fit for the area, and the rocky, forested topography of south-eastern Connecticut. After planting 6 different types of berries, Liz and Bill quickly saw how well the elderberries grew. To offset the astringency of the elderberries, Liz tried many ingredients, but settled on apples. "I found a recipe in my grandmother's Joy of Cooking cookbook for an apple-elderberry pie. It is a dynamic taste combination."
Bill says the farm is dedicated to very simple, straightforward, and "no funny business" products. Their maple syrup only contains one ingredient, and their Elderberry Apple Shots and Apple Ginger Syrups are only two ingredients. Their recently launched Elderberry Gummy Kit uses 4 ingredients.
"We also want to keep New England heritage foods alive, and keep making them as generations did before us," says Bill. Apple Syrup, also called Boiled Cider, or Apple Cider Syrup, was used by the colonists to sweeten dishes when cane sugar was expensive.
To learn more about Fat Stone Farm, to find a
store near you that carries their products and to see photos of the farm's
chicken coop office, please visit Fat Stone Farm
Release ID: 413577