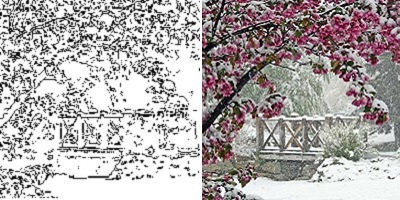 - September 20, 2015 /PressCable/ —
Creative Artist's Notebook, A Stress Relief Coloring Book for Adults and other Big People from Blackbird Publishers reflected on its release of their new coloring book for adults Introduced in April. This stress relieving coloring book was in development over the past few years, applying the theory of coloring as a relaxation technique promoted by Carl G. Jüng early in the last century. The main aim was always to Relieve stress by using an activity that most adults find relaxing but by its nature employs significant thought processes that also promotes relaxation. Thus by defying convention, this Stress Relief Coloring Book does so, with a difference.
Developed by Ginger Bell with James Maloney providing the photography and the preparation of the images, The artists/writers at Blackbird Publishers, say "We wanted to try something new with Creative Artist's Adventure Notebook. Anyone familiar with the self directed artistic intervention of stress market will probably have noticed how everyone else always seemed to use only large blocks of color similar to what is made for children. We felt this was a problem because That does not engage as many parts of the brain."
So as a welcome breath of fresh air, Creative Artist's Adventure Notebook: For Adults and Other Big People uses complexity of the project to require the use of areas of the brain to become involved in vision and fine motor skills [coordination necessary to make small, precise movements]. The artists chose to make this move because they believe the complexity of the coloring page assists the user in achieving a better level of relaxation..
Developed by Ginger Bell also said "We want to give our customers Complete relief of anxiety without a need for prescribed medication. With Creative Artist's Adventure Notebook: For Adults and Other Big People, offers a fresh new possibility. We want users to feel comfortable using coloring pages of this type. We believe using Creative Artist's Adventure Notebook will mean trying something new and could always be a risk, but it's a risk we believe is worth taking."
Another unique undertaking of the project is the source of all images within the coloring book. These images are all true to life authentic photographs, many from the work of the artist, and none are original line drawings as are common with most other coloring book images. The full color photographic images are "scrubbed" through proprietary software to remove color values while retaining many of the lines needed to define shapes, form, and textures.
Blackbird Publishers has been in business for self-Publishing books for three years, however this is a new project. Since starting this on line endeavor it has bee their purpose to assist writers and artists with publishing their own works. Thfey will continue to do this and invite inquiries to would be writers and artists.
Creative Artist's Adventure Notebook: For Adults and Other Big People is now available at Amazon books. To find out more and to purchase visit Stress Relief Adult Coloring Book
Release ID: 91709