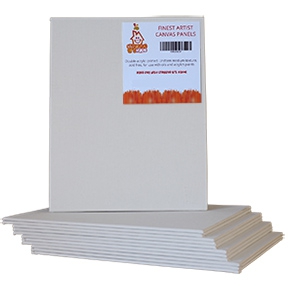 - April 13, 2016 /PressCable/ —
On Monday, Creative Art Haus announced that it was celebrating its second year of selling their blank canvas panels on Amazon.com. Today, the craft brand announced a surprise is coming for their customers.
To play on the number 2 as part of their two years selling online, Creative Art Haus will be offering a 20% discount off the regular retail price of their 12-pack 8×10 inches canvas panels.
Sale manager Marvin said "We thought about offering a 2% discount in line with our two years selling online but that small saving wouldn't be worth celebrating about so we've gone for a 20% discount".
The Amazon discount coupon code will be revealed tomorrow to give customers time to prepare for the sale. Customers can claim the discount by entering the coupon code at checkout on Amazon.com
Customers are advised to search for the term "blank canvas panels" or similar terms on Amazon.com and then look for the Creative Art Haus branded canvas panels.
"Our canvas panels are usually found on the first two pages of Amazon.com. Furthermore, if you are an Amazon Prime customer or buys over $35, you'll get free shipping." Marvin said.
Creative Art Haus blank canvas panels are sold on Amazon through their Fulfilled By Amazon program. These canvas panels are ready to be painted on upon opening as they are already double primed. They are suitable for oil, watercolor and acrylic paints.
In the two years selling on Amazon.com, Creative Art Haus has sold over 1200 units and planned to triple that number of sale in the next two years.
Marvin stated the success of their business comes down to two things, firstly having a great product that is well made, even for professionals, instructors and students painters and secondly, backing up their product with excellent customer service.
Creative Art Haus is so confident in the quality of their blank canvas panels that they offer a money back guarantee. Customers who are not happy with their purchase can request a full refund minus the delivery cost.
Release ID: 110263