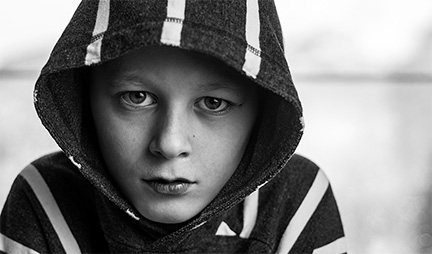 - November 21, 2017 /PressCable/ —
"75% of crime in the United States is committed by high school dropouts," stated Dr. Anthony Dallmann-Jones, author of Shadow Children, and professor of at-risk studies at Marian University in Wisconsin. Earlier today, Marian University in Wisconsin announced the beginning of its new At-Risk and Alternative Education Master's Program – fully accredited and 100% online, which has been in development since April, 2017.
The main aim is to create visionary insights in public and private school educators, youth workers, juvenile detention and prison educators, as well as in the public's eyes about the baggage kids from neglectful and/or abusive homes carry. "Education needs to wake up," Dr. DJ (as his students call him), "as we still have a serious problem with making school inviting and effective in order to help kids not only succeed in school , but also in life, the whole point of education."
Almost every at-risk student comes from an abusive or neglectful home. If a school is to divorce itself from the 'school to prison pipeline' it needs to change. Research shows that by changing current approaches, figures for unemployment, crime, addiction, and violence would be drastically reduced. This new Marian University program, therefore, is not aimed just at public school teachers. The program invites youth workers and detention and prison educators as well. In alignment with this, applicants need a bachelor's degree but not a teaching certificate.
"We wanted to create something effective as well as truly innovative with this educational program. Anyone familiar with the school dropout prevention arena will probably have noticed how most educator prep programs teach teachers how to teach content, like biology, history, or good ol' reading, writing and arithmetic. This can be a problem because these kids are carrying baggage that creates a need for a different approach. Impersonal education does not take into account their needs as much as the teachers' needs or the school districts' needs." As a welcome breath of fresh air, Marian's fully online ARAE Program will – instead – train teachers to reach and teach the potential dropouts, not just subject matter. ARAE is a 14 month, 30 credit program.
Dr. Anthony Dallmann-Jones also stated "We want to give our graduates the tools and skills to be more effective with students, and have more rewarding experiences as an educator. With this new we want them to feel Graduates of the ARAE Master's program are given the informal title of "Angel-Warrior Educators." when using our service. Trying something new is always a risk, but it's a risk we believe is worth taking."
At-Risk Education has been in business for The At-Risk and Alternative Education Master's Program is new., being established in Marian University was founded in 1936.. Since Day 1 it has always aimed to The ultimate mission is to turn teachers into specialized educators who see through different set of eyes – not overreacting to behaviors and addressing deeper needs of students..
This isn't the first time At-Risk Education has defied convention either. In between 2005-2012 they caused a stir when Marian' School of Education became the first accredited university to graduate 75 teachers in alternative education through a Differentiated Instruction for Alternative Learning (DIAL)..
The new fully accredited and fully online program is set to launch January 20, 2018. To find out more about the service and At-Risk Education visit Marian University Online Masters in At-Risk and Alternative Education or apply at marianuniversity.edu/apply
Release ID: 267145