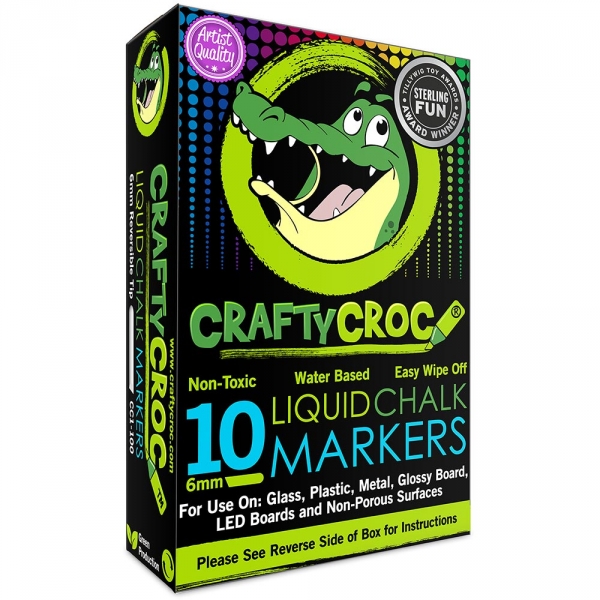 - July 11, 2015 /PressCable/ —
Today CraftyCroc, the leading provider of a range of premium quality art and craft products announced that their pioneering product, 10 Neon Liquid Chalk Markers has been honored by the Tillywig Toy and Media Awards. The Tillywig Toy & Media Awards aim to provide retailers buyers, news media, parents and consumers with product information and review of superior children's products available in today's marketplace. The CraftyCroc product was evaluated by a panel and was deemed worthy of the 2015 Tillywig Sterling Fun Award. Areas evaluated by the Tillywig panel included ease of first use, replay value, quality/appearance, social interaction/fun factor, creativity, and thought processes/motor skills.
Kimberly Mitchell, the CraftyCroc Media Representative stated, "As a company, we are extremely pleased and honored by Tillywig's recognition of our Chalk Markers. It is our mission to turn every CraftyCroc customer into raving fan of the company by providing quality products matched with an exceptional level of support and service."
CraftyCroc has consistently distinguished itself by the quality of its innovative products. Since it was first launched in mid-2014, the chalk markers have breathed fresh life into kids' artwork and inspired them to new heights of creativity.
Ms Mitchell went on to say, "It's great that people are coming up with fun new ways to use our chalk pens designed to help release their creativity. This award shows that these ideas are working. We're hoping that more people will experience the fun to be had with our products as the range expands. To find out more about our products on Amazon.com interested parties should visit craftycroc on Amazon.
The CraftyCroc manufacturing team creates a range of artist quality liquid chalk products for commercial or home use; completely non-toxic and water-based. They make a crafty gift, generating vivid colors and textures. The company states that they are for use on non-porous surfaces such as glass, metal and ceramic., Being water based, odorless and non-toxic, these markers are an excellent fit for artistic endeavors by kids as young as age three (with adult supervision). They're suitable for creating or enhancing holiday decorations and greeting cards, working on school or scrap-booking projects, and adding personal touches to gifts. The markers in this pack range in color from cool to fiery, providing the entire palette kids need for creative self-expression.
CraftyCroc is a US-based brand owned and operated by Reef Holdings LLC (DE). All CraftyCroc products meet strict manufacturing guidelines and are compliant with US and European standards for art and craft supplies.
From its humble beginnings to its current status as a trail-blazing company, CraftyCroc is expanding into a range of cutting-edge and exciting new products, ideal for both home and commercial use. More about CraftyCroc can be found here at www.craftycroc.com
Release ID: 86455