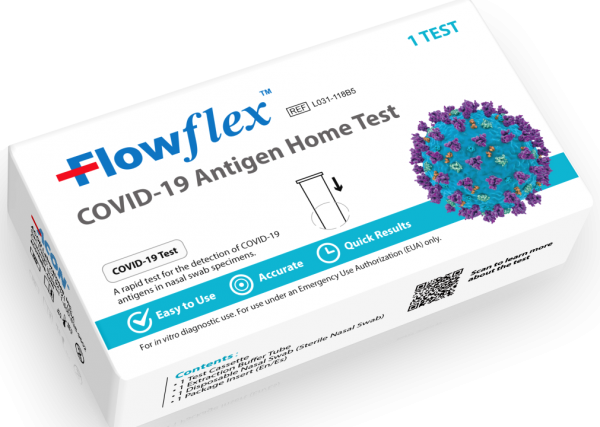 - February 10, 2022 /PressCable/ —
UK company Blindspot Global UK has offered to help American businesses and wholesale suppliers receive covid 19 test kits with the intention of faster order fulfillment times. Currently, bulk buy orders of covid test kits fulfillment are between 9 to 12 weeks, this leads to short supplies for businesses that need to test their staff regularly. Many businesses in the USA are currently struggling to find supplies of rapid antigen covid test, this is where Blindspot Global hopes to help.
Blindspot Global UK aims to bring the lead time down to 28 days possibly 21 days, the covid test being offered for bulk buyers is the ACON Laboratories, Flowflex Covid-19 Antigen test. The test kits are already produced in the USA and FDA approved; order fulfillment times are where Blindspot Global is determined to make improvements.
ACON Laboratories, Flowflex Covid-19 Antigen test:
· Easy-to-use nasal swab test
· Requires just 1 test*
· Can be used to test children as young as 2 years old
· For use with and without COVID-19 symptoms
· Accurate results in 15 minutes
· No need to send off to a lab to obtain results
· Compact packaging for "On-The-Go" testing
Blindspot Global is a UK Government approved covid test supplier, with a good reputation in the UK. Recently the UK government had a shortage of test kits once again Blindspot global stepped up offering free tests for key workers in the UK i.e., nurses, doctors' teachers, etc.
Mark Moran head of overseas sales at Blindspot Global added this is not about profits it is about helping people, there is a great need to get the global economy back up and running putting the pandemic behind and starting afresh. People all over the world are seeing prices increase across the board, fuel, food, inflation just to name a few. Blindspot Global is a company started by ex-military personnel who served all over the world, the main reason for joining the military was to help people and the same ideology is carried forward in Blindspots business principles.
Blindspot Global already ships around the world and have been made aware of the problem in the USA and wish to help, Blindspot Global have contacted their suppliers in the states and they are working together to improve production processes hopefully things can be more productive thus solving the problem of lead time being 9 to 12 weeks.
Any USA businesses that require large order volumes of test kits and are finding it hard to locate supplies should contact Blindspot Global to see if the problem can be solved with an order fulfillment within 4 weeks this is the aim.
Release ID: 89063390