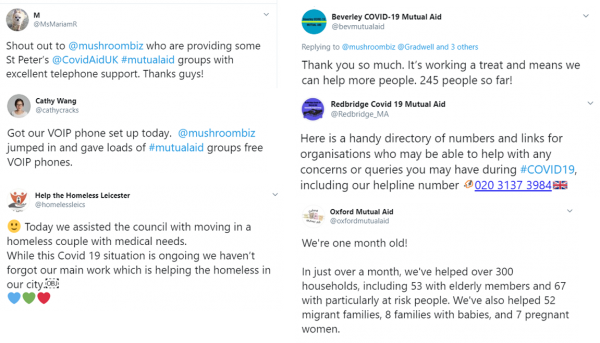 - April 28, 2020 /PressCable/ —
Business services company Mushroom is providing free phone lines and call-handling systems to over 70 Covid-19 community support groups from around the UK.
The phone systems – developed by telecoms provider, Gradwell – are playing a crucial role in helping volunteers communicate with vulnerable people to arrange local support including groceries, medication and other critical deliveries. Over 2,000 calls were made to these phone lines in the first week of April, equating to over 94 hours of talk time.
Genevieve Carnell, Tanya Salinder and Habiba Alli of Redbridge Covid-19 Mutual Aid have expressed the gratitude shared by many of the volunteers: "It's been a game changer and a life-saver. We are already receiving 20+ calls a day and have been able to provide a faster and more effective response to so many more people because of this. We've been able to take the group from covering patches of the local area through people sharing their personal numbers, to giving comprehensive support across the whole borough through a joined-up system. We recently helped get a food package to a homeless man who hadn't eaten for days and we were able to get to him in time because he could call us directly".
Another community group in Somerset shared the case of a 102 year-old World War 2 veteran who had contacted them to express his enormous gratitude for the help they had given his recently-deceased partner, listening to her fears with kindness, helping her by delivering shopping and prescriptions – and leading to her last conversation with him being bubbly and full of happiness at the way she had been looked after.
Mushroom is still inviting voluntary groups to register for free telephone lines and those interested can register on the company's website, www.mushroombiz.co.uk.
Ed Surman, Co-founder of Mushroom said: "We are currently offering free phone lines, privacy policies and as much as we can to help the isolated and vulnerable during this difficult time. We've had an amazing response so far and the stories coming back from the groups we have helped are demonstrating that the efforts of the volunteers putting their lives on the line to help others are nothing short of heroic."
Paul Ceaser, Gradwell's Chief Technology Officer, said: "We're delighted to be able to support this initiative. It's so important that these groups have access to the tools they need to provide essential services to vulnerable individuals, and hopefully our phone systems can play a small part in their vital work.
Release ID: 88955311