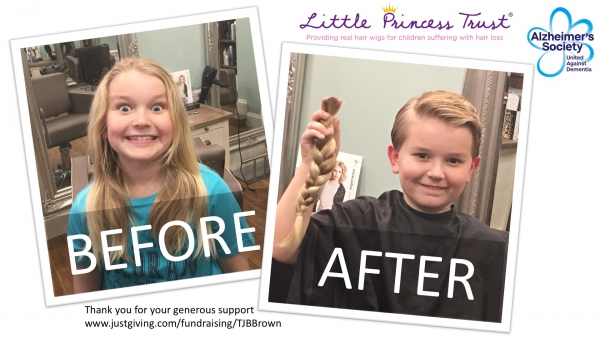 - March 24, 2017 /NewsNetwork/ —
9 year old Tom Brown has just had his golden locks trimmed for good. Not only has he donated the hair to the Little Princes Trust to help children who need wigs following hair loss, but he's already raised over £1,300 for Alzheimer's Society. His charity effort will help those suffering dementia, a condition Tom has seen two great grandmothers progressively suffer with.
Tom is the kind of young person who knows his mind. First, aged 4 he made up his mind to grow his hair. But what was unusual for a boy, was that he kept growing it. And despite criticism and name calling, he kept growing it. Tom grew his hair halfway down his back. And despite a Chelsea Football Club scout being ready to give Tom a trial for Chelsea Ladies, it's not the pressure from repeatedly mistaken identity that has led to his decision to ditch the long blonde hair. Tom, a talented and aspiring actor, has recently landed a role in a new West End show and, after discussions with the producers, has agreed to lose the locks.
Of course, being the headstrong young man that has chosen to fight through the challenge of being a long-haired boy, Tom wasn't going to settle for just having a hair cut like anyone else. Instead, Tom placed his own ambitious fundraising target of £1,000 on the image revamp and decided that his big change could bring positive change for others too.
Tom said, "It's been really hard watching my two great grannies suffer and so I decided if I was going to make a change, I wanted to be making a difference."
While the donations, which have already surpassed £1,300 on JustGiving.com will go direct to The Alzheimer's Society, Tom's hair will be donated to The Little Princess Trust – the specialist charity that creates custom real hair wigs for children suffering from conditions leading to hair loss.
So while Tom continues his stage rehearsals, his hair and the proceeds from his big transformation on 22 March 2017 will be changing lives for the better.
As the before and after pictures show, the transformation is a stunning one. Further donations may be pledged in support of Tom's big transformation. All funds will go directly to The Alzheimer's Society. Jess Hillicks, Alzheimer's Society community fundraiser welcomed Tom's decision to boost the charity. She said:
"It's great that Tom is giving his time to support Alzheimer's Society. Dementia can happen to anyone and there is currently no cure. But with the right support, people can live well with dementia.
"As a charity, we rely on the generosity of individuals like Tom to help us continue our vital work so that Alzheimer's Society can continue leading the fight against dementia."
Notes:
1) For further information contact Tom's father, Jonathan Brown on 07957 609013.
2) Alzheimer's Society is the UK's leading dementia charity provide information and support, fund research, campaign to improve care and create lasting change for people affected by dementia in England, Wales and Northern Ireland.
3) The Little Princess Trust provides real hair wigs free of charge to boys and girls across the UK and Ireland that have sadly lost their own hair due to cancer treatment and other illnesses.
Release ID: 180701