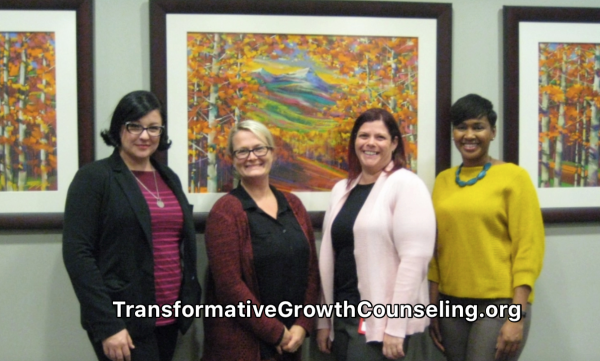 - December 26, 2017 /PressCable/ —
Transformative Growth Counseling offers couples therapy and marriage counseling in and around the Naperville and Aurora, Illinois area.
More information can be found at https://transformativegrowth.org
Dr. Jessica Norman, the Founder and director of Transformative Growth Counseling shared these thoughts: "There's hundreds of ways to approach couples counseling, and sadly most therapies will treat the marriage like a business arrangement – everything is negotiated, and usually under the premise that these couples just don't know how to communicate."
Dr. Norman went on to say, "Marriages aren't businesses relationships. The majority of people can communicate perfectly fine with other humans. Over the last 30 years, attachment science has shown us that the real underlying distress in relationships is broken attachment due to emotional injury. At its core, emotional injuries are the cause of the break down in our attachment with one another; and, with enough damage, couples will eventually withdraw from each other, and separate. The real work in couples counseling that repairs the relationship, is in addressing the underlying attachment-based emotions that are damaged and in need of healing and forgiveness."
Transformative Growth Counseling is a non-profit, state-licensed, board certified therapy practice serving multiple locations across Illinois, run by Dr. Norman and a number of other certified clinical staff. They offer an array of specialties ranging from marriage counseling and couples therapy to personality disorders, stress and anxiety management, and counseling for depression.
Dr. Norman also shared this thought: "Emotional injury which threatens the safety and security of relationship, is most often a result of infidelity, abandonment, excessive criticism, lying, shutting down, or addiction within the relationship."
When asked what distinguishes her practice, Dr. Norman said, "We take innovative, evidence based approaches to couples counseling; it's not a one size fits all. All relationships develop and maintain their own type of dynamic – it's critical that the couples counseling is tailored to the needs, dynamic, culture and lifestyle of the couple. Couples often come to us after a previous attempt in counseling where they felt critical issues, such as their sexual functioning, or culture, diversity, or sexual orientation were never acknowledged, nor addressed. Part of this is lack of education: research has not quite caught up with alternative lifestyles, such as couples who have open or poly relationships; and research is still lacking around the dynamics of LGBT or alternative lifestyle – such as poly or open – relationships. Another factor in not getting culturally sensitive care is the provider's lack of experience, knowledge or nervousness, in starting the conversation about how one's culture, ethnicity, sexual orientation, or non-religious status, influence their relationship with their partner, who comes from a different, possibly conflicting, culture, religion or ethnicity."
Release ID: 281418