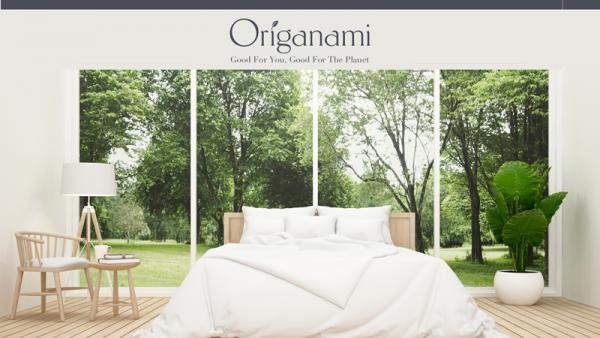 - June 11, 2020 /PressCable/ —
hülyahome, LLC., a home furnishings company based in New Jersey, is launching a Kickstarter Campaign. Aimed at raising awareness and support of the company's Origanami brand – 100% non-GMO, Fairtrade and GOTS Certified, this campaign showcases the company's support of humanitarian rights and environmental conservation when manufacturing their Origanami sustainable and organic percale sheet, sateen sheet, and duvet collections.
For more information visit: https://hulyahome.com/pages/origanami-sdm
The Origanami Kickstarter campaign, launched on June 9, 2020, focuses on the Origanami brand, which is Fairtrade Certified, utilizing non-genetically modified organisms (GMO), sustainable resources and methods to manufacture the brand's products.
Origanami cares for the planet utilizing non-GMO cotton seeds to grow organic cotton that is woven into their luxurious sheets. The cotton grows in virgin soil with rainwater, natural fertilizer, pest and weed management, and is harvested by hand ensuring fiber, animals, and Earth are protected.
The Fairtrade and organic certification of Origanami Cotton Bed Linens also signify that the brand is committed to safe working conditions and providing fair wages to farmers and workers. Plus, these certifications ensure that Origanami protects water supplies and refrains from the use of bleaches and other chemicals commonly used in the processing of its textiles.
Overall, the brand is committed to environmental, economic, and socially responsible practices so that it guarantees the production of 100% natural bedding with no artificial ingredients. As a result, the Origanami bed linen collection is 'Ultra Luxurious' with attention paid to detail, so that comfort gets maximized, ensuring a good night sleep.
By supporting the Origanami brand during their Kickstarter campaign, the creators can continue their tireless work, and ensure that their vision of equality and a fairer world for all becomes a reality.
When asked about the Origanami collection and the Kickstarter campaign, a hülyahome representative said, "We are lifelong friends with a passion for textiles and the world that we all share. At Origanami, we believe in offering certified organic and sustainably produced home furnishings with complete honest transparency, while being good stewards of natural resources. Our mission is to provide beautiful natural fiber home furnishings, manufactured ethically and sustainably, while contributing to environmentally and socially focused causes, through Fairtrade and GOTS partnerships."
To find out more about hülyahome and Origanami, as well as the company's Kickstarter campaign click on the link above and visit https://bit.ly/2MmvwXN. Site visitors can learn more about the company and their beginnings, cause, and motivation.
Release ID: 88962493