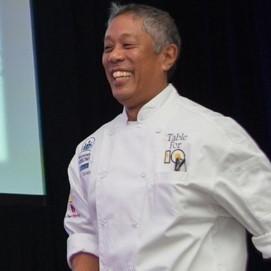 - February 3, 2022 /NewsNetwork/ —
Executive Chef Michael J. Doctulero brings over 35 years of culinary experience and his known "omakase style" (where diners trust the chef's choice of 6-7 seasonal courses) to his new venue, Mah Jong's by Chef Mike. The restaurant is located in South Coast Plaza, Costa Mesa California.
To learn about the restaurant and its culinary background, visit https://www.mahjongsbychefmike.com
The new restaurant allows diners to choose from different menus offering fresh globally-inspired dishes, showcasing Chef Mike's own diverse culinary background and multicultural upbringing. One of the available menus features fully plant-based courses.
Global influences and sustainable sourcing have become increasingly important to patrons in the food and dining industry. Mah Jong's recognizes this need by reflecting updated trends and consumer demands in their menus. Additionally, many diners who have been separated from overseas family or have not visited their home countries in some time are particularly drawn to flavors which remind them of childhood experiences, making the globally inspired palette even more appealing.
Chef Mike's own description of his childhood history reflects his upbringing as a minority race in a multicultural neighborhood. His lifelong love for cuisine was strongly influenced by the intercultural community connections fostered by his grandparents' cooking and weekly social events.
The new restaurant has already received numerous glowing reviews with an average 5-star rating on Yelp – a challenging feat for venues to maintain. Diners who have experienced the new Mah Jong's by Chef Mike have shared positive experiences about the service, food, drinks and atmosphere, proving the new restaurant a true all-rounder in the New-American cuisine category.
"The food here is eclectic and delicious. Flavors combined from various inspired cuisines." states one reviewer who has dined at the recently opened restaurant.
Another patron states: "Wow, great new restaurant in South Coast Plaza. The food was excellent, everything we tried was cooked to perfection and had excellent flavor. The staff was super friendly and Chef Mike was amazing coming by our table more than once, which made our dining experience even more wonderful. Definitely date-night approved."
Learn more about Mah Jong's by Chef Mike at https://www.mahjongsbychefmike.com
Release ID: 89062629