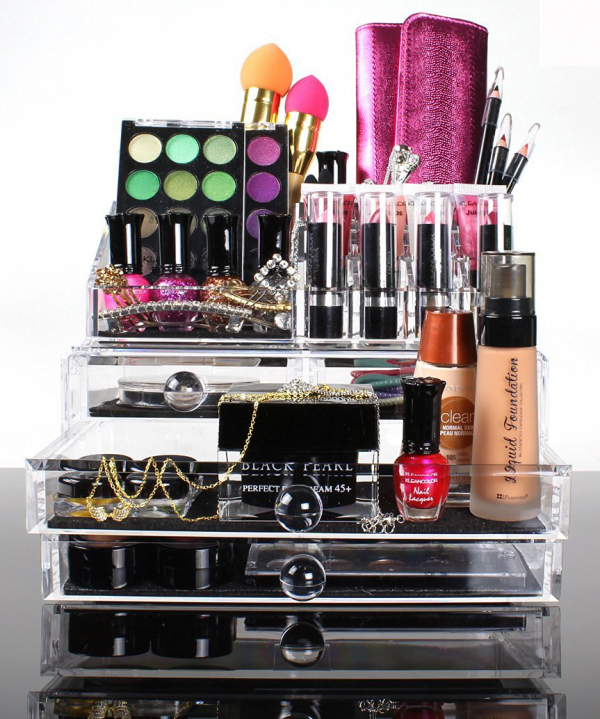 - January 6, 2017 /PressCable/ —
Since the launch of their makeup storage unit nearly two months ago, Cosmopolitan Collection has become a powerhouse in makeup organization. The Cosmopolitan Collection makeup storage unit has over 170 reviews written on Amazon.com, the exclusive selling partner for the piece. 97% of those reviewers said they liked their makeup storage unit, with the unit receiving an average rating of 4.6 out of five stars.
"We love the enthusiasm of our customers," said Cosmopolitan Collection spokesperson Rob Bowser. "The loyalty of these customers continues to grow stronger, and sales continue to increase. We are very grateful for the customers who take the time out of their day to write online reviews. Since our unit is not sold in retail stores, our potential customers can best learn about our makeup storage unit from the stories of others. "
Made of a transparent acrylic that is durable and easy to clean, the Cosmopolitan Collection makeup storage unit comes in two pieces that can be separated or used as a single unit. Within the organizer is a combination of drawers and compartments that are built to hold a large variety of makeup products.
The most recent five-star reviewer said, "Finally my daughter's make up is organized! This was a Christmas gift for my teenage daughter, who is a professional makeup artist and needs the best tools for her trade. When she opened this gift, she abandoned her family and quickly took off to her room to organize her million dollar makeup collection. Was a big hit, highly recommended."
Sold exclusively at Amazon.com, the Cosmopolitan Collection acrylic makeup organizer is currently on sale for $42.99, with free shipping provided on any purchase of $49 or more.
About Cosmopolitan Collection: "As an honest and ethical company, Cosmopolitan Collection focuses all energy, resources, and effort to organizing the world in a beautiful way. By creating a single, acrylic makeup organizer, Cosmopolitan Collection works to improve the world by bringing the best quality makeup organizer in the world to market so that all men and women can use and enjoy the product at a reasonable price."
Release ID: 159404