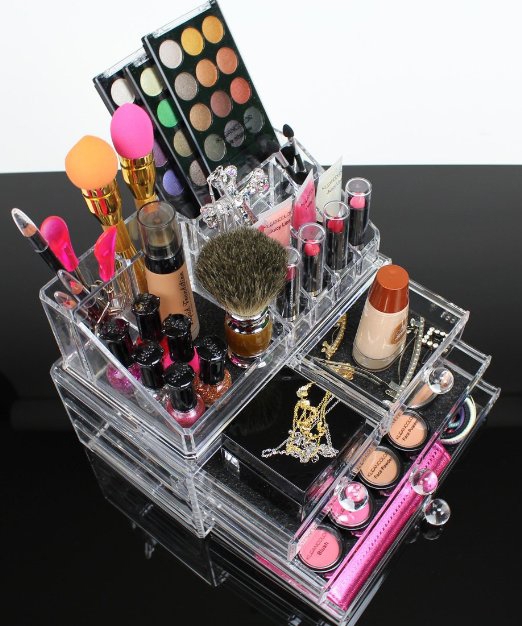 - November 4, 2016 /PressCable/ —
The Cosmopolitan Collection acrylic makeup organizer is made of a durable, clear injection molded acrylic. It is scratch resistant, shatterproof and easy to clean. The makeup organizer provides many options for makeup storage, as it features four drawers with ergonomic handles as well as other compartments of all shapes and sizes that can hold everything from lipstick, nail polish, to makeup brushes and shadow pallets. The unit comes in two pieces that can be stacked or separated, allowing more flexibility for the makeup storage needs of the customer.
"We spent a considerable amount of time in the research and development of this makeup organizer," said company spokesperson Rob Bowser. "We are excited about the customer reaction and are honored to be ranked #1. This is a huge accomplishment."
Customers love the makeup organizer by Cosmopolitan Collection. With over 100 reviews, 96% of customers state they like their makeup organizer. The average review rating is 4.5 out of 5 stars. One verified purchaser wrote, "Love it! Don't know why I waited so long to buy it. It cut 10 minutes off my makeup routine in the morning from fumbling through all my stuff! I want to buy more! Good quality better price than in the stores. Nice thick acrylic. Not sharp or flimsy. Good amount of storage space."
The Cosmopolitan Collection makeup organizer is available only on Amazon.com and is currently priced at $29.97, which is nearly 50% off the retail price. Free shipping is available on all Amazon orders over $49. Cosmopolitan Collection offers a satisfaction guarantee to all customers, and anyone not entirely happy with their purchase and return the makeup organizer for a full refund.
About Cosmopolitan Collection: "As an honest and ethical company, Cosmopolitan Collection focuses all energy, resources, and effort to organizing the world in a beautiful way. By creating a single, acrylic makeup organizer, Cosmopolitan Collection works to improve the world by bringing the best quality makeup organizer in the world to market so that all men and women can use and enjoy the product at a reasonable price."
Release ID: 143438