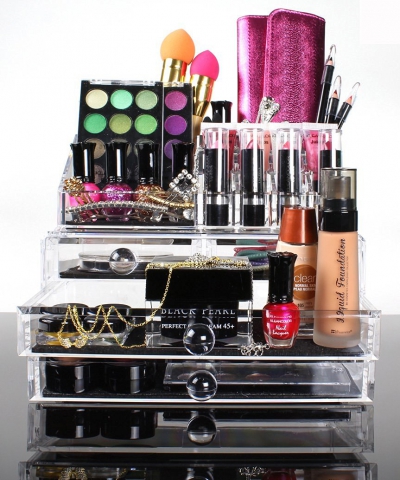 - February 6, 2017 /PressCable/ —
Valentine's Day is just over one week away. Instead of sweetheart gifts of candy or flowers, why not give them something that they can use every day forever? The Cosmopolitan Collection makeup organizer is the perfect gift.
Company spokesperson Rob Bowser posed the question "Don't you want to give your Valentine a unique gift this year – something that will last so much longer than flowers or a box of chocolate? Our organizer is attractive and can be used for so many things. This is a piece that your Valentine can use every day. Every day the will see it and think of you."
Made of the highest quality, durable acrylic, the Cosmopolitan Collection makeup organizer is the best-selling organizer on Amazon.com, the exclusive selling partner for the organizer. The unit comes in two pieces that can be used stacked or separated and is filled with drawers and compartments of various shapes and sizes. These areas are perfect for holding everything from cotton swabs to makeup brushes, palets and much more.
Over 200 customers have written reviews for the makeup organizer on the Amazon.com listing. 98% of reviewers wrote they liked their Cosmopolitan Collection makeup organizer. One of the newest five-star reviews from a verified purchaser said "I did a lot of searching before I purchased this organizer. I love how the two sections come apart. You can keep them stacked together, but it gives you the option to customize it to fit what you need. I sometimes take one section apart and move it closer to me so I can get easier access to my mascara and eye liners. I was trying to find a way to store my makeup so I could access everything but see it too. This little organizer was a great solution. When it arrived in the mail, it was packed very carefully and when I opened it I was stunned. It was heavier than I thought it would be and a lot sturdier. You just can't tell from the photo how high quality this organizer is. I love it and hope to use this for many years to come."
The Cosmopolitan Collection makeup organizer is specially priced at $39.99 for Valentine's Day, with free shipping available for combined purchases of $49 or more.
About Cosmopolitan Collection: "As an honest and ethical company, Cosmopolitan Collection focuses all energy, resources, and effort to organizing the world in a beautiful way. By creating a single, acrylic makeup organizer, Cosmopolitan Collection works to improve the world by bringing the best quality makeup organizer in the world to market so that all men and women can use and enjoy the product at a reasonable price."
Release ID: 167288