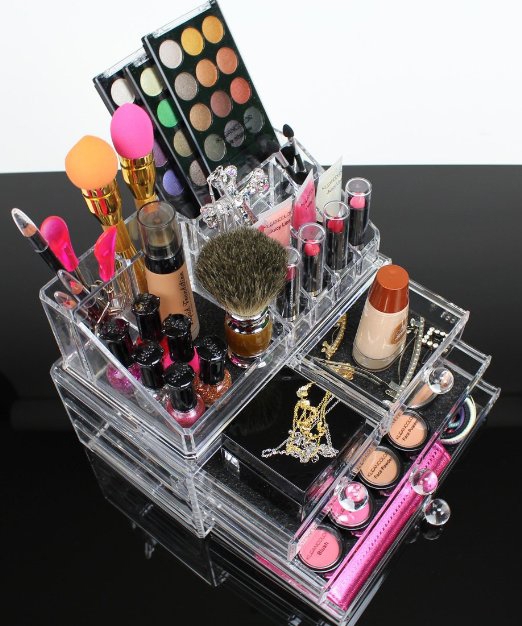 - November 9, 2016 /PressCable/ —
Cosmopolitan Collection is the maker of the #1 makeup organzier on Amazon.com. Today they announced that their company wants to make certain the public understands what a great gift their organizer makes for the holidays.
Rob Bowser, Cosmopolitan Collection company spokesperson, explained, "We have invested our resources into making the best possible makeup organizer on the market. One of the advantages of the organizer is its flexibility. It can be used to store makeup, craft supplies or collectibles. The organizer can be used by men or women, children or adults. We want to make sure that limitations are not drawn for the product, and that people understand this organizer makes a great holiday gift for everyone."
The Cosmopolitan Collection makeup organizer is made of an injection molded acrylic resin. This acrylic is very easy to clean and is not only durable but also scratch resistant, waterproof and shatterproof. The organizer separates into two pieces that can be stacked or separated and contains four drawers and 16 other compartments that provide unique storage options for many things.
Customers have left glowing reviews of the makeup organizer on Amazon.com. With over 120 customer reviews, 96% of them say they like their Cosmopolitan Collection organizer. The average customer review is 4.5 out of 5 stars. One customer wrote a 5-star review and said, "This is one of the better quality cosmetic organizers I have come across. You get two large drawers, two small drawers, 12 slots for your lipsticks/lipglosses and several other compact little areas that you can fit perfumes, lotions or other makeup. The acrylic is high quality; I can tell because I've bought several before via Amazon and most have come cracked. The seller is a dream to work with and truly cares about customer service. I highly recommend this brand!"
The Cosmopolitan Collection clear acrylic makeup organizer is sold exclusively on Amazon.com. The unit is currently priced at $29.97, or over 40% off the retail price. Free shipping is provided on all Amazon orders over $49.
About Cosmopolitan Collection: "As an honest and ethical company, Cosmopolitan Collection focuses all energy, resources, and effort to organizing the world in a beautiful way. By creating a single, acrylic makeup organizer, Cosmopolitan Collection works to improve the world by bringing the best quality makeup organizer in the world to market so that all men and women can use and enjoy the product at a reasonable price."
Release ID: 144553