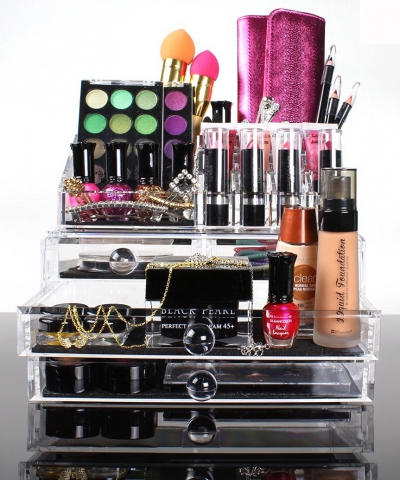 - March 21, 2017 /PressCable/ —
The Cosmopolitan Collection acrylic makeup organizer has been the #1 selling makeup storage organizer on Amazon.com. Customers have raved about the unit and taken to the internet to applaud the benefits.
Over 200 customers have left reviews about their experience with Cosmopolitan Collection's makeup organizer. 97% of customers leaving reviews state they like their organizer and many list their favorite benefits of the unit. One verified purchaser wrote, "This is made of acrylic, so it doesn't look cheap like plastic. It provides a lot of space to hold many items but is small enough that it isn't an eyesore. Definitely looks a lot nicer than having my cosmetics strewn about on the countertop or crammed into a makeup bag like they were. Highly recommend!"
The Cosmopolitan Collection cosmetic organizer and storage system is designed to help men and women keep all of their makeup products in order and easily accessible.
Made of a clear, acrylic resin, the makeup organizer is transparent and easy to clean. The Cosmopolitan Collection clear makeup organizer can be used in a home or professional setting, including beauty shops.
"We wanted to create a makeup storage unit that was attractive and useful to people," stated company spokesperson Rob Bowser. "The unit is designed in two separate pieces, so people can stack the unit or use it as separate pieces. This allows for more flexibility and allows our customers to find the best setup for their needs."
The Cosmopolitan Collection makeup organizer is currently on sale for $34.99, almost 50% of the retail price. Amazon.com is the exclusive selling partner for the unit and offers free shipping on all purchases over $49.
About Cosmopolitan Collection: "As an honest and ethical company, Cosmopolitan Collection focuses all energy, resources, and effort to organizing the world in a beautiful way. By creating a single, acrylic makeup organizer, Cosmopolitan Collection works to improve the world by bringing the best quality makeup organizer in the world to market so that all men and women can use and enjoy the product at a reasonable price."
Release ID: 179228