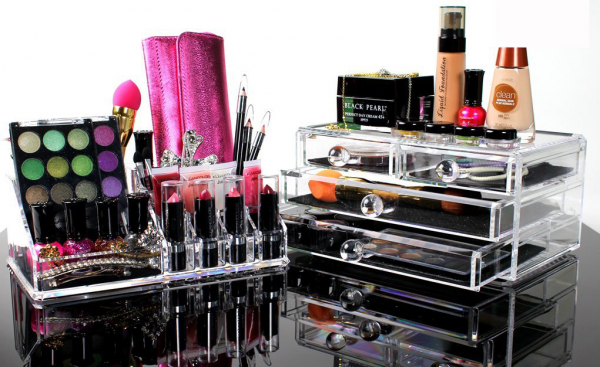 - March 2, 2017 /PressCable/ —
Almost two years ago, Cosmopolitan Collection launched their acrylic makeup organizer. In order to celebrate the upcoming anniversary, Cosmopolitan Collection announced it would offer special pricing and sales for their customers for the holiday.
"During the past two years, we have tried to make updates and improvements to our makeup organizer to ensure it remains a top-selling organizer on Amazon.com," said company spokesperson Rob Bowser. "We want to celebrate with our customers. Celebrate our anniversary. Celebrate reaching the #1 selling position on Amazon. There is much to celebrate here, and who better to celebrate with, than our valued customers."
The Cosmopolitan Collection clear makeup organizer is made of a clear acrylic that is durable, shatterproof, and scratch resistant. The molded acrylic makes the organizer very easy to clean.
The unit has four drawer spaces, which are perfect to hold things like cotton balls, makeup pallets, and cotton swabs. There are also 16 other compartments that can be used to hold makeup brushes, lipsticks, nail polish and a large variety of other makeup products. The makeup organizer can be stacked as a single unit, or separated into two pieces. This allows the customers more flexibility in the use of the organizer.
Over 120 customers have left reviews on Amazon.com. One five-star reviewer wrote, "I absolutely love this makeup storage! I've been wanting one for a long time but was hesitant. When it arose that I was able to review this, you bet your bottom dollar I was going to! This doesn't hold all of my makeup because I clearly have a lot, but it holds my everyday essentials that I use. I would recommend these organizers to anyone who loves makeup as much as I do! This has been the best so far!"
The Cosmopolitan Collection makeup organizer is currently priced at $34.99 and sold exclusively on Amazon.com. Any order from Amazon over $49 will ship for free.
About Cosmopolitan Collection: "As an honest and ethical company, Cosmopolitan Collection focuses all energy, resources, and effort to organizing the world in a beautiful way. By creating a single, acrylic makeup organizer, Cosmopolitan Collection works to improve the world by bringing the best quality makeup organizer in the world to market so that all men and women can use and enjoy the product at a reasonable price."
Release ID: 174494