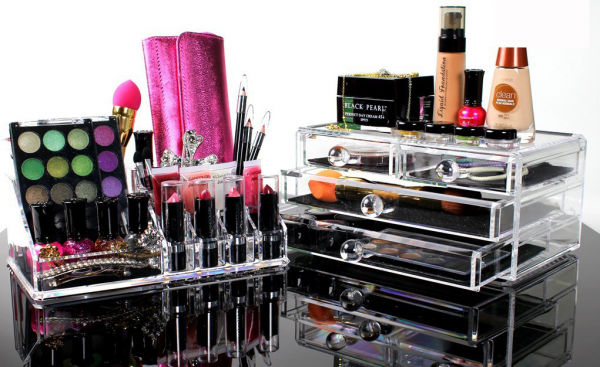 - January 31, 2017 /PressCable/ —
Cosmopolitan Collection announced due to a continued increase in customer demand; their popular acrylic makeup organizer is currently sold out. As the company approaches their second anniversary, more clients have become aware of how useful the Cosmopolitan Collection makeup organizer can be in their homes. Sales for the fourth quarter of 2016 were more than double those of 2015.
"We are so excited to see the sale of our makeup organizer to continue to increase," stated Cosmopolitan Collection spokesperson Rob Bowser. "As we saw the demand for the makeup organizer increase prior to the holidays, we increased our production – significantly. Still, the customer demand was higher than our supply. We want our customers to know that we are making every effort to ensure the makeup organizer is back in stock within this week."
Cosmopolitan Collection has dedicated their research and production efforts to a single product, their makeup storage unit. The clear makeup organizer is made of high-quality acrylic, durable, attractive and a useful piece. The sophisticated appearance, convenience, and quality of their makeup organizer has appealed to both men and women, both in the home and professional settings.
Customers are clearly enthusiastic about the makeup organizer. Out of 200 reviews, 98% of customers said they like their acrylic makeup organizer. A new five-star reviewer this week wrote "I did a lot of searching before I purchased this organizer. I love how the two sections come apart. You can keep them stacked together, but it gives you the option to customize it to fit what you need. I sometimes take one section apart and move it closer to me so I can get easier access to my mascara and eye liners. I was trying to find a way to store my makeup so I could access everything but see it too. This little organizer was a great solution. When it arrived in the mail, it was packed very carefully and when I opened it I was stunned. It was heavier than I thought it would be and a lot sturdier. You just can't tell from the photo how high quality this organizer is. I love it and hope to use this for many years to come."
The acrylic makeup organizer is two pieces that can be used stacked or separated. The unit contains a combination of drawers and compartments for everything from makeup brushes, lipsticks, nail polish and more. The makeup organizer will continue to be sold exclusively on Amazon.com when it returns to stock this week.
About Cosmopolitan Collection: "As an honest and ethical company, Cosmopolitan Collection focuses all energy, resources, and effort to organizing the world in a beautiful way. By creating a single, acrylic makeup organizer, Cosmopolitan Collection works to improve the world by bringing the best quality makeup organizer in the world to market so that all men and women can use and enjoy the product at a reasonable price."
Release ID: 165621