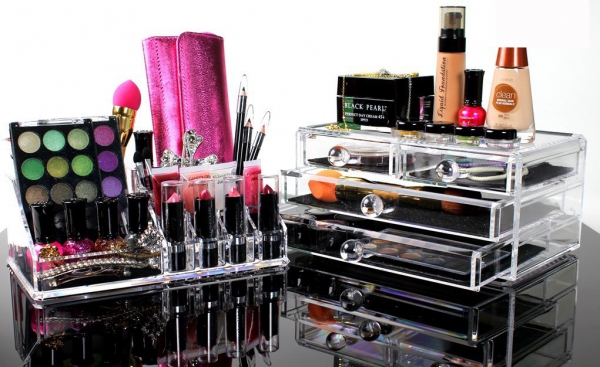 - April 4, 2017 /PressCable/ —
Spring means warmer weather, longer days and a time of year when people begin to focus on cleaning and organizing. Cosmopolitan Collection understands this, and today announced a spring celebration to promote their best-selling acrylic organizer.
"Spring is a time when people like to organize, or are celebrating events like graduation" explained Cosmopolitan Collection spokesperson Rob Bower. "We want our potential customers to understand what sets us apart and makes our organizer the perfect gift."
The Cosmopolitan Collection clear organizer is the number one rated organizer on Amazon.com. The unit is made of a clear acrylic, that is durable, shatterproof and easy to clean. Since the organizer can be used stacked as a single unit or separated, the organizer is versatile and can have many different uses.
Customers love the Cosmopolitan Collection organizer, and out of over 200 reviews, 97% of customers wrote that they like their organizer. A recent five-star review was titled "Ten years of wearing makeup, why didn't I buy this sooner?" The reviewer continued "Instead of having your makeup in random makeup and travel bags, this organizer helps keep everything accessible and neat! I like that it is clear so you can see where everything is without digging through it. Additionally, I like that the organizer comes in two parts so you can stack them or use the drawers section separately (for more space). I used to have an issue with not being able to find lipsticks because they would be in some random bag that I took on a trip months ago, but now I have everything out, easy to find, and ready to go! I highly recommend this product!"
The Cosmopolitan Collection acrylic organizer sold exclusively on Amazon.com, and is currently priced at $34.99, a special price for spring celebration. Any order over $49 will receive free shipping. Cosmopolitan Collection stands behind their organizer, and any customer not completely happy with the acrylic organizer can return it for a full refund.
About Cosmopolitan Collection: "As an honest and ethical company, Cosmopolitan Collection focuses all energy, resources, and effort to organizing the world in a beautiful way. By creating a single, acrylic makeup organizer, Cosmopolitan Collection works to improve the world by bringing the best quality makeup organizer in the world to market so that all men and women can use and enjoy the product at a reasonable price."
Release ID: 183143