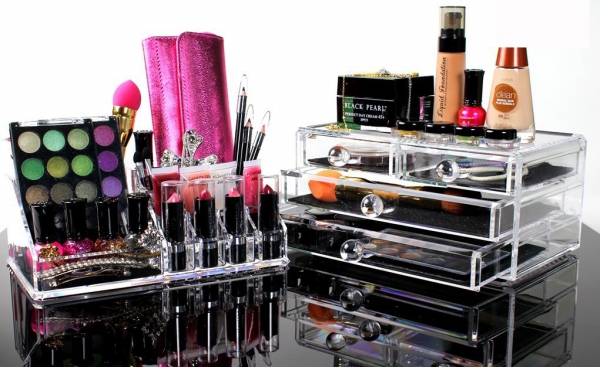 - March 29, 2017 /PressCable/ —
In order to help customer get the most out of their best-selling acrylic organizer, Cosmopolitan Collection announced that a new guide is in development for the organizer.
"We have defined our mission by offering the most creative, innovative makeup organizer regarding quality, aesthetics, and ease of use. True organization is an art, and beautiful. We want to our customers know the best ways to use the organizer," explained Cosmopolitan Collection spokesman Rob Bowser. "The Makeup Organizing Guide will be available for free."
The Cosmopolitan Collection acrylic makeup organizer is made of a durable acrylic that is scratch resistant and easy to clean. It is built in two pieces that can be stacked or separated, depending on the organizational needs of the customer. There are four drawers and 16 other compartments that provide space for lipstick, nail polish, brushes, pallets and anything else that a customer wants to include as part of a beauty routine.
With over 150 reviews so far on Amazon.com, customers have raved about the Cosmopolitan Collection Makeup Organizer, mentioning its attractiveness, ease of use and durability. The average rating is 4.5 out of 5 stars. One satisfied customer wrote, "The organizer has 12 spots for lipsticks, 3 big containers that I use for eyeshadow sticks and eyeliners, one large empty area which I use for my makeup remover bottles/sprays, and there are 2 long and 2 small drawers. The unique thing about this organizer is that you can separate it into two separate pieces. The drawers can separate from the top unit with the 12 holes and etc. The depth of the drawers have been great for me to use for face powders, blushes, and even eyeshadow palettes. The drawers seem to be about 1 inch deep which is a nice size for what I want to use them for; however, if you want to keep items that are a bit larger than they might not work for you. The organizer is definitely made with high-quality acrylic material, and I can tell that it will be a long lasting product. Another nice touch about the organizer is that it's clear therefore your items are easier to see inside the drawers rather if it were any other color. I really enjoy this organizer because it helps me keep less frequently used items on top of my counter, so I am more likely to grab them when doing my makeup plus it helps me keep things a bit more organized in my bathroom."
The Cosmopolitan Collection makeup organizer can be purchased exclusively at Amazon.com and is currently on sale for $34.99, nearly 30% off the retail price. Free shipping is available on all orders over $49. Any customer is not completely satisfied with their purchase; the makeup organizer can be returned for a full refund.
About Cosmopolitan Collection: "As an honest and ethical company, Cosmopolitan Collection focuses all energy, resources, and effort to organizing the world in a beautiful way. By creating a single, acrylic makeup organizer, Cosmopolitan Collection works to improve the world by bringing the best quality makeup organizer in the world to market so that all men and women can use and enjoy the product at a reasonable price."
Release ID: 181549