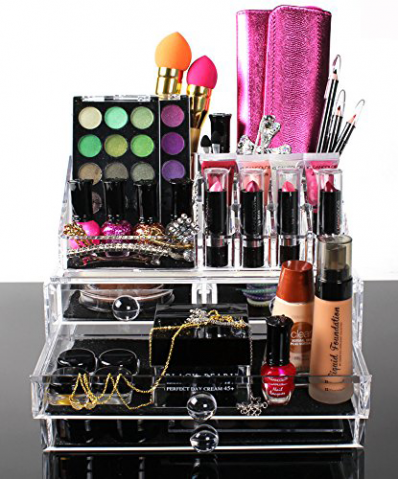 - May 11, 2017 /PressCable/ —
Since the launch of their clear acrylic organizer, Cosmopolitan Collection has become one of the top-selling makeup organizers on Amazon.com. Sales for the organizer continue to increase each month, exceeded goals and projections. Even with this success, Cosmopolitan Collection is committed to reaching more customers with their organizer, and today announced that the company has new product photos in development for the organizer.
"When we first created our organizer, the intent was to create an attractive, durable piece that could organizer cosmetic products for customers," explained Teddy Shake spokesperson Rob Bowser. "We know realize how narrow this vision was. Over the past two years, countless numbers of customers have contacted us and shared their photos and stories of how they use our organizer. Of course, many of them are using the organizer for makeup products, but what we have discovered is how many use the organizer for other products. Some use it to organizer essential oils. Other customers use the organizer to organize office supplies, craft supplies or various nuts and bolts for a tool workshop. There are so many ways this organizer can be used, and we now want to make sure these ideas are included in our product photos."
Over 200 customer reviews have been written for the Cosmopolitan Collection organizer. Ninety-seven percent of reviewers state they like their organizer, while the average customer satisfaction rating is a 4.6 out of 5 stars. One verified purchaser wrote a five-star review and said "Instead of having your makeup in random makeup and travel bags, this organizer helps keep everything accessible and neat! I like that it is clear so you can see where everything is without digging through it. Additionally, I like that the organizer comes in two parts so you can stack them or use the drawers section separately (for more space). I used to have an issue with not being able to find lipsticks because they would be in some random bag that I took on a trip months ago, but now I have everything out, easy to find, and ready to go! I highly recommend this product!"
The Cosmopolitan Collection organizer can be purchased exclusively on Amazon.com. It is currently priced at $29.99, with free shipping available.
About Cosmopolitan Collection: "As an honest and ethical company, Cosmopolitan Collection focuses all energy, resources, and effort to organizing the world in a beautiful way. By creating a single, acrylic makeup organizer, Cosmopolitan Collection works to improve the world by bringing the best quality makeup organizer in the world to market so that all men and women can use and enjoy the product at a reasonable price."
Release ID: 198520