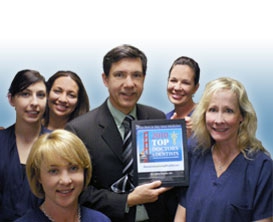 - November 30, 2017 /PressCable/ —
Dr. Riopelle, an experienced Pleasanton cosmetic surgeon, recently released a video about his "Look Younger Every Year VIP Program". The program is custom designed for people that want to look as young as they feel. In the video, Dr. Riopelle and one of the beneficiaries of the program, Carol S., describe its benefits and how easy it is for people to participate in it.
The full video can be found on https://www.youtube.com/watch?v=Xp3lsZbJe9w
Dr. Riopelle developed the "Look Younger Every Year VIP Program" as a response to the rapid growth of the cosmetic industry and the growing demand for trustworthy methods that help people look and feel good.
"We created a program where Carol and other patients can come in and pay for the program gradually as they go along and then we can select from whatever we have available that we think is most appropriate at that particular time," the cosmetic surgeon says in the video.
Dr. Riopelle explains how the program allows patients to have a monitored long-term approach to improving their looks. At certain intervals, treatments are made to achieve the desired look, corresponding to changes in the body.
Carol, a beneficiary of the program, explained that she joined the VIP program and has not regretted it. She has been going to Dr. Riopelle for the past 10 years. Initially, her concern was the effects of age on her face, primarily the wrinkles, tone and texture of her skin that had started getting affected by her age. She received treatment on her first visit to address her concerns, followed by regular reviews and additional treatment which when combined, provide the look she wants.
When asked about the advice she would give to those in the marketplace that are not as young as those joining the workplace, Carol said, "My advice would be to always look at what you need to do for yourself so that you feel good about who you are, and that means not only internally but externally; taking care of yourself also includes cosmetic treatment, and find a doctor you can work with, which I am very fortunate to have found – Dr. Jeffrey Riopelle."
The fact is that people will age differently, and it is important that treatment is person-based. There isn't a one-size-fits-all cosmetic treatment for everyone, and that is why the "Look Younger Every Year VIP Program" is highly appropriate for anyone, since treatments are tailor-made for patients.
More information about other services offered by Dr. Riopelle can be found at https://www.riopellecosmetic.com/
Release ID: 266520