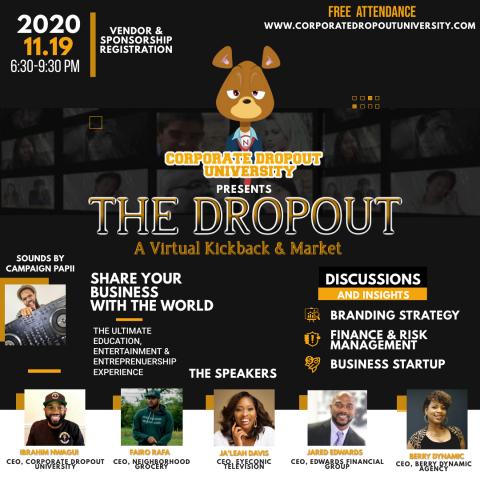 - November 13, 2020 /PressCable/ —
While many entrepreneurs were already on the everyday grind, the pandemic gave birth to a generation of courageous soldiers. More people than usual leaped into entrepreneurship with hopes of their business being the next success story. However, most of those people don't have the slightest clue of what they are getting themselves into. This is where Corporate Dropout University (CDU): "Home of The Check-In Series for Hustlers" benefit influencers. In celebration of National Entrepreneurship Month, CDU presents The Dropout; a free virtual kickback and market on November 19, 2020 from 6:30 p.m. to 9:30 p.m. hosted on Hopin. The event feature discussions on brand strategy, finance and risk management, and business start up with CEO speakers Fairo Rafa of Neighborhood Grocery, Ja'Leah Davis of Eyeconic Television, Jared Edwards of Edwards Financial Group, and Ciara Suesberry of Berry Dynamic Agency. Attendees will experience education and entertainment with a curated list of vendors, including a live DJ streaming of your favorite songs with Campaign Papii.
"Our mission is to be the front runner in best positioning black entrepreneurs and helping them take advantage of the fourth industrial revolution," states CEO of CDU and event moderator Ibrahim Nwagui. "We have to focus on economic empowerment and embrace how technology will provide the lane we need to make America great for entrepreneurs, influencers, and hustlers."
According to Microsoft News, Covid-19 has fostered a wave of both positive and negative innovation. Before Covid, there were 158 million Americans that were employed. Many people may not be actively seeking employment due to social distancing measures, which leaves over 30 million Americans without a job. However, the entrepreneurial initiative and dedication of scientists have sparked optimism worldwide and may construct the foundation for the next generation of entrepreneurs.
CDU is a digital platform to support black businesses and become a virtual store front for their consumers. In addition, we use the "Check In Series" to shine light on the journey of entrepreneurship, give business owners a safe space to vent and operate as a networking hub. We provide workshops centered around business development, and partner with grass root initiatives to impact different global communities. Services also include remote webinars, interactive workshops, group and individual coaching, strategic company development plans and long-term retention.
"It takes tenacity to be a literally corporate dropout in the midst of a pandemic," states Ciara Suesberry of Berry Dynamic Agency, LLC. "This event will enhance your knowledge of entrepreneurship. I'm especially excited to teach business owners how to break barriers to branding, while cultivating their relationship with the public through storytelling."
Nwagui believes in fostering a winning tribe where individuals know they will not fall by the waste side. His goal is to create a foundation that's in favor of the underdog, while presenting spiritual, mental and physical motivation to encourage a persistent mindset. For more information on how to become a sponsor, advertise or register for the free event, visit https://corporatedropoutuniversity.com/. In addition, follow the social media page @corporatedropout.univ to stay updated on upcoming check ins and events.
Release ID: 88985455