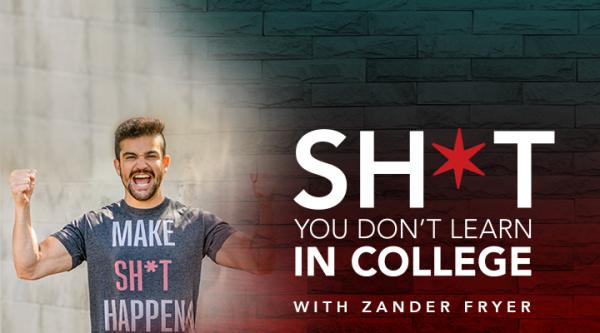 - April 2, 2021 /PressCable/ —
Zander Fryer was the success story everyone wanted to be. Making $200 thousand a year as an engineer for Cisco, driving the BMW while meeting with Disney, NBC, and Sony executives.
He'd graduated from UCLA and done what was expected- started to climb the corporate ladder. But Zander felt empty. Was this really what success was supposed to feel like?
So he did the unexpected. Quit cold turkey. Crazy, right? But Zander knew he wanted to make a difference. He wanted to impact others.
After dropping out of the corporate world, he has devoted his life to coaching others and helping more become coaches that make an impact! You can see more about what he does over at https://www.zanderfryer.com
The best part is that he wants to bring valuable life lessons to everyone through his new podcast, Sh*t You Don't Learn In College!
Zander's desire for this podcast is to help everyone learn the true life lessons that our educational system fails to teach.
This show truly believes that when individuals couple the right knowledge with a strong desire for action, anything is possible.
The SYDLIC podcast shares interviews from the world's most successful people in business, finance, sports, health, and entertainment, in order to help people live a life filled with more money, more meaning, and more freedom than anyone ever thought possible.
The launch of this show has an all-star lineup that everyone will want to tune into to hear.
Zander talks with Craig Ballantyne about the four high income skills everyone needs to make a million dollar income. Craig has helped over two hundred and sixty entrepreneurs reach their first million, so he knows what he is talking about!
Next up, Zander chats with Patty Aubrey, the former President of Chicken Soup for the Soul. As a NY Times Best Seller, she shares how others can become best selling authors and the 3rd grade lesson that has made her millions.
Zander's third interview is with none other than Joel Marion, co-founder of BioTRUST Nutrition. Joel shares how to connect with others to help fast track success among other gold nuggets of information.
The goal of Sh*t You Don't Learn in College is simply to provide valuable education without the college price tag. All while having a good time with show host, Zander Fryer, and his guests.
Listen and subscribe on Apple, Spotify, or wherever you listen to shows! Let's get ready to learn!
Release ID: 89003237