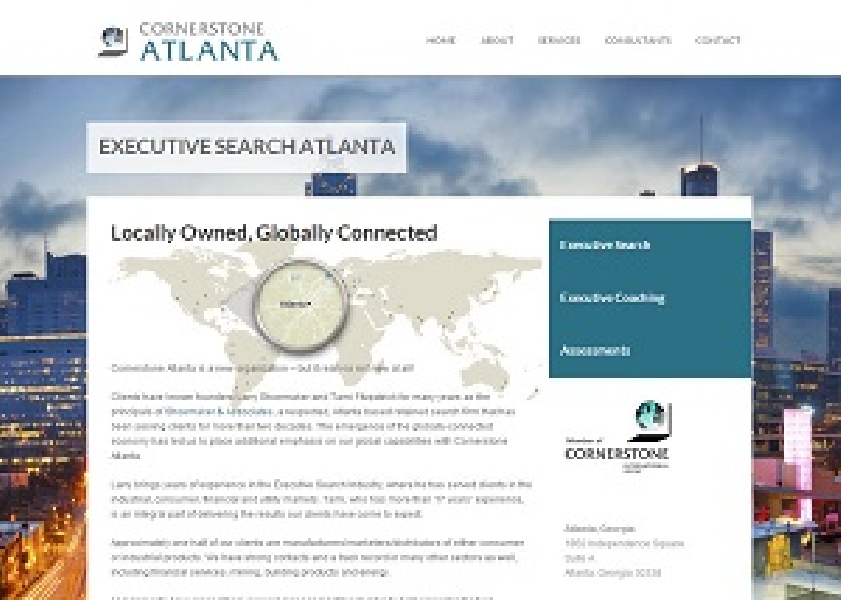 - August 6, 2014 /MarketersMEDIA/ —
Atlanta, USA – August 5th, 2014 /PressCable/ —

ATLANTA, GA. August 5, 2014 – Cornerstone Atlanta, a leading executive search and recruitment company in the U.S. Southeast, is the latest to put a global face on its recruiting operations with a new international website.
The firm is a member of the Cornerstone International Group (CIG), a 70-office network of owner managed specialists in the executive recruiting field. Each is a leader in its regional market and the group's current thrust is to reinforce the worldwide capability of the full network.
A new group website created a fresh online presence in 2013 and members are launching their own sites with similar branding in their home markets
"The executive recruiting challenge is international these days and, to be competitive, you have to have a presence in every major market," explains Cornerstone Atlanta owner Larry Shoemaker, who is also president of the global group.
"Cornerstone offices are all independently owned and have different regional marketing but we share the same processes and best practices. A common look, or branding, communicates that."
Atlanta is the 10th Cornerstone member to adopt the global approach of the new network site which features an open design, subdued colors and international imagery featuring its many operations around the world. As with the other member sites, Cornerstone Atlanta shares content with the global Cornerstone International Group site as well as presenting its credentials in the regional marketplace.
A feature of each individual website is promotion of the group's membership in the Association of Executive Search Consultants (AESC), which sets the gold standard worldwide for retained executive search services.
Other CIG offices adopting the new online look are in Toronto, Kansas City, London, Stockholm, Copenhagen, Vancouver, Tel Aviv, Helsinki and Oslo.
INFORMATION
Tami Fitzpatrick
Tami-fitzpatrick@cornerstone-group.com
770-395-7225
AB0UT
Cornerstone International Group is a world leading organization of retained executive search and recruiting specialists. Members are equity owners of their firms who share business and best practices, giving clients reliable and personal access to highly qualified service both locally and in over 70 locations around the world. Cornerstone maintains head offices in Shanghai, China and in Atlanta, USA and is a member of the Association of Executive Search Consultants (AESC), the official body representing retained executive search consulting firms worldwide. Information on Cornerstone retained executive search is available through the global website at www.cornerstone-group.com
Contact Info:
Name: chris allan
Organization: Cornerstone International Group
Website: http://cornerstone-atl.com/
Phone: 514-917-8198
Release ID: 58173