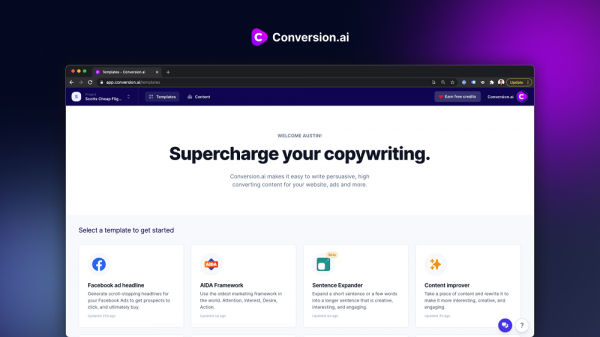 - April 24, 2021 /PressCable/ —
Dave Rogenmoser and Chris Hull, together with their team announced the launch of the new content platform Conversion AI, a powerful copywriting tool that uses AI to write high-converting content in seconds. "We realized there was an opportunity for us to provide people with a better way to create quality content," said Dave Rogenmoser. The goal is simple: help clients save time and money by using this AI assistant called Jarvis to generate blog posts, articles, website copy, or even books on demand without writer's block.
As a professional marketer, Dave specializes in helping other marketers grow their businesses. Conversion AI has been a highly anticipated project of Dave's for years, and he is thrilled to finally have it completed. Dave saw many people struggling with the same problem: how do I create high-quality content without spending tons of time on writing?
They're either overwhelmed by all the work that needs to be done or they don't really enjoy doing this type of thing in the first place – so there was an opportunity there for us," said Rogenmoser. One example would be when you need a blog post about conversion optimization but are swamped at your job as a marketer and just don't want to go through another round of copywriting pains.
Read the detailed review at https://pennyegg.com
Now, through Conversion AI, not only can entrepreneurs, marketers, or anyone who needs content save time and money. They can also save on stress and pain just by letting their AI assistant (Jarvis) work for them.
"We know that people are busy these days, so we wanted to give them the opportunity to take advantage of a tool like this without paying exorbitant prices," said Chris. "Conversion AI is for anyone who wants high-quality content at an affordable price."
With Conversion AI, marketers and entrepreneurs do not have to spend hours upon hours researching or creating their own content from scratch. They can just use Jarvis who will produce a high-quality piece of copy in seconds that will engage with their audiences and draw more clicks through social media.
It's also an affordable way for small business owners to get quality web copy without breaking the bank. With prices starting at only $29 per month, it's one of the most affordable options for getting great online marketing content available today.
About Dave Rogenmoser
Dave Rogenmoser is also the CEO of Proof, together with the creation of Conversion AI, Dave wants to create products that they are proud of, their families are proud of and also the users are proud of using them.
Find out more at https://pennyegg.com
Release ID: 89006528