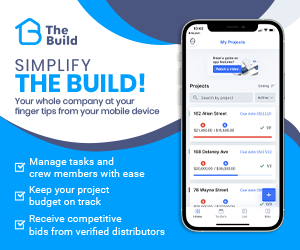 - June 23, 2021 /PressCable/ —
Customers looking for the latest Construction MGMT Software are now able to download "The Build". Today Robert Casinover & Mo Hoque, Co-Founders of The Build released details of The Build APP.
The Build is designed to appeal specifically to General Contractors, DIYers, Plumbers, Electricians, Masons, Carpenters, and includes:
A mobile Project MGMT APP – This feature was included to simplify construction projects. This is great news for businesses as It's a free APP that provides efficiency and organization thereby saving time and money.
The Build allows users to manage tasks, crew members, "To Do's", Budgets, expenses and File MGMT in real time. – This was made part of the product to allow users to keep their projects on schedule . Contractors who download "The Build" should enjoy this feature because it allows them to manage their crew and their projects tasks more efficiently to get the job done in time and on budget.
Receive competitive bids from verified distributors – The Build connects distributors and contractors in a marketplace, which allows users to create a list of materials that can be submitted to a network of local distributors for competitive bids. This allows contractors to get competitive pricing and quick delivery of construction material and provides distributors with access to new clients.
Robert Casinover & Mo Hoque, when asked about The Build said:
"The Build is a Free ecosystem of software solutions focused on solving daily business issues encountered in the construction industry. The company seeks to revolutionize the way business is done in the construction industry by creating a suite of software solutions that streamline daily processes and procedures resulting in cost savings and efficient time management."
The Build is an intuitive project MGMT tool that solves many of the pain points contractors encounter when managing construction projects.
Those interested in learning more about the business can do so on the business website at https://thebuild.us/ or emailing info@meetmybuild.com
To download the free APP visit: https://thebuild.us/
Release ID: 89030202