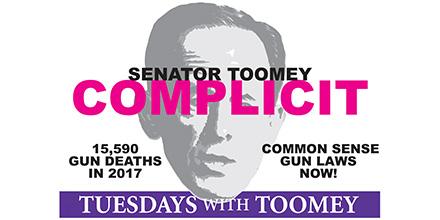 - February 19, 2018 /PressCable/ —
Constituents, joined by Pennsylvania's Mayor of Braddock: John Fetterman, PA State Rep. Brian Sims, Movita Johnson from the Charles Foundation, and representatives from DELCO United and Ceasefire PA, will gather outside of Senator Toomey's Philadelphia office at 12:20pm on February 20th to share how gun violence affects Pennsylvanians and urge Senator Toomey to take the lead on enacting common sense gun legislation.
Florida's Parkland High School is one in a string incidents of gun violence in U.S. schools. Though Senator Toomey ran as a gun sense candidate and received endorsements from gun reform organizations, including Everytown and Americans for Responsible Solutions, he has not kept his campaign promises to work towards commonsense gun legislation. Senator Toomey recently voted for HJ40, which loosens restrictions for severely mentally ill patients to buy firearms, and is a co-sponsor of the Constitutional Concealed Carry Reciprocity Act of 2017, which would allow concealed transport of firearms across state lines and force states to honor concealed carry permits issued elsewhere. This is unacceptable.
Pennsylvanians will use this event as a launching point to demand, through every available legal means, that Senator Toomey keep his constituents safe and stand by his campaign promises by joining Senator Casey in cosigning onto Senator Feinstein's Assault Weapons Ban (S. 2095), cosigning onto Senator Feinstein's Automatic Gun Fire Prevention Act (S. 1916), and cosigning on Senator Murphy's Background Check Expansion Act (S. 2009). In addition, constituents insist that Senator Toomey take a proactive stance in furthering the passage of the Manchin-Toomey amendment and further that Senator Toomey revoke his cosponsorship of the Constitutional Concealed Carry Reciprocity Act of 2017 and vote against this bill.
Learn more about this gathering at: https://www.facebook.com/events/177242686225008/
Tuesdays with Toomey (#TuesdayswithToomey) is a grassroots movement that gathers every Tuesday at Senator Toomey's offices across the state to hold him accountable for his votes and to promote communication between constituents and their elected representatives. Since November 16th, 2017, this constituent movement has attempted, with varying degrees of success, to have meetings with Senator Toomey's staff. Constituents have also asked Senator Toomey to have regular, open attendance, in person town hall meetings, preferably on nights or weekends with adequate notice for constituents to attend. In Senator Toomey's over seven years as a U.S. Senator, he has not yet fulfilled this basic duty to his Philadelphia constituents, and constituents agree that across the state his performance in this area has been sorely lacking. Tuesdays with Toomey reminds Senator Toomey that his constituents expect and deserve more from their Senator.
Release ID: 302118