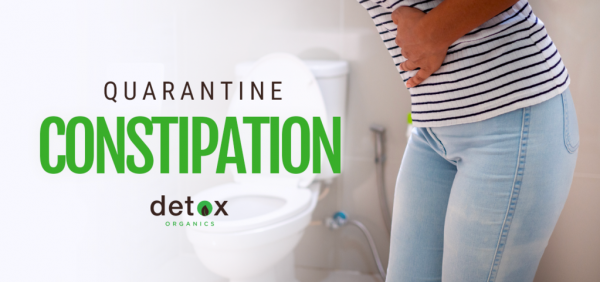 - June 7, 2021 /PressCable/ —
Detox Organics, a brand which offers detoxifying shakes, protein, and supplements, has launched an all-natural Daily Superfoods green supplement for digestive wellness.
For more information, please visit https://detoxorganics.com/blogs/blog/quarantine-constipation
The supplement was launched in response to what is being called quarantine constipation, a condition resulting from the pandemic in which diminished exercise, increased stress, and changes in diet cause stomach and digestive irregularities.
The Daily Superfoods detox shake, which comes in a chocolate flavor, improves digestive health, increases energy, relieves bloating, and supports nourishment.
The shake contains all-natural ingredients such as carrot root, lemon, turmeric, spinach, kale, kelp, barley, and peppermint. Each ingredient targets detoxing and cleansing, alkalizing and energizing, or digesting. The shake is certified vegan, dairy free, non-GMO, and gluten-free.
The Daily Superfoods shake also contains large amounts of fiber, which supports colon health and regular bowel movements. Because fiber passes through the body undigested, it cleans the digestive system as it travels, facilitating bowel movements and clearing cholesterol and carcinogens from the body.
Quarantine constipation symptoms include fewer bowel movements, strained bowel movements, too hard or too soft stools, and bloating. The Daily Superfoods shake stimulates intestinal motility and diminishes gut irritation in the gastrointestinal tract to ease those symptoms.
In addition to gut health, the shake also reduces inflammation and replenishes electrolytes to return the body to a natural balance of wellness. Consumed once daily in the morning, the shake powder can be mixed with water or almond milk.
Says a user, "The Daily Superfoods shake is totally worth the buy. I mix it with unsweetened almond milk and have it for breakfast to start off my mornings. I can see and feel the difference in my gut health, and bloating is no longer an issue. The taste is great, and if you are looking for a product to kick off a healthy living lifestyle, this is the one."
In addition to the Daily Superfoods shake, Detox Organics offers a line of products including a vanilla protein shake, a Daily Boost capsule supplement, Daily Wake-Up detox coffee blend, and an Emergency Detox capsule supplement.
Interested parties may visit the above-mentioned website.
Release ID: 89025193