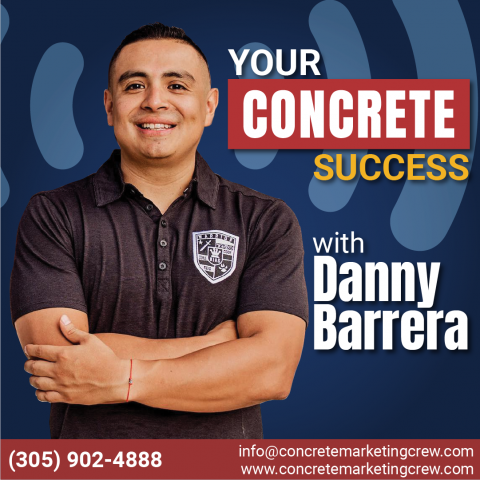 - June 4, 2021 /PressCable/ —
Concrete Marketing Pros, the first digital marketing agency to offer online lead generation services exclusively for decorative concrete contractors, has released their new and improved Online Lead Generation Guide. The comprehensive and easy-to-read ebook is packed with information that will help contractors find more sales opportunities in today's market.
The guide includes tips on how to generate new leads through organic search engine optimization (SEO), paid advertising (PPC), and social media campaigns. It also covers how contractors can get found by potential clients, track which marketing tools are working best for them, analyze their ROI from various sources of traffic acquisition, and increase their website conversion rates.
The internet has made it possible for anyone to generate concrete leads online. The only problem is that it's a complicated process to figure out how to do so. That's why Concrete Marketing Crew has put together this all-inclusive guide on generating concrete leads online. With these tips, concrete contractors will be able to get ideas to promote their concrete business online.
In this comprehensive guide, the concrete marketing experts at Concrete Marketing Crew share:
– How to choose the right lead generation strategy for concrete businesses
– Pros and cons of generating leads via organic vs. pay per click
– How to leverage social media to get new leads
– Essential elements to consider when marketing a concrete company online
– so much more…
"The lead-generation process for concrete contractors is a daunting task. They are faced with the constant need to find new clients, but yet they have no good way of generating leads because potential customers often misunderstand their services. Most marketing companies fail to understand this, and this is why concrete contractors need to become educated in this process." said Danny Barrera, founder of Concrete Marketing Crew.
In 2021, concrete contractors are now able to advertise their services and reach potential clients more efficiently. The internet is an integral part of the contracting industry, making it easier for contractors to find new business opportunities and niche down in key verticals or find the best places to generate concrete leads online.
About Concrete Marketing Crew: A specialized SEO and internet marketing agency for concrete contractors. They help decorative concrete contractors get more targeted leads, sales, and profits with a proven digital concrete marketing plan. Their team of concrete marketers ensures decorative concrete businesses get the visibility they deserve on Google.
Release ID: 89022289