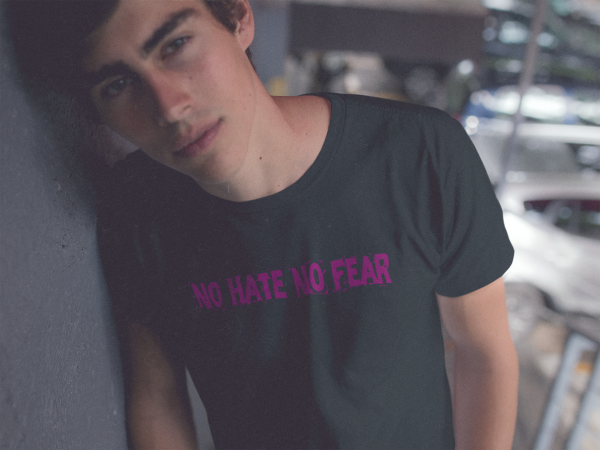 - February 3, 2017 /PressCable/ —
Loudmouth Tees announced today they will donate up to $10 from the sales of selected apparel to the American Civil Liberties Union (ACLU).
Loudmouth Tees owner Ara Rubyan is himself an immigrant. "My parents came here because they believed that the US would give us a better chance to build a successful life. My siblings and I grew up wanting to assimilate and become real Americans like anyone who was born here." Rubyan continues, "So when I saw on TV the immigration protests at many national airports recently I saw a bit of myself in the faces of these new immigrants. They're here, just like us, because they want to fit in, to become real Americans. It's not easy leaving home and starting over in a new country. I know from personal experience."
He said it was then that he decided to take action. "First, I made a direct donation to the ACLU so that the immigrants could afford to have legal counsel if and when needed it. But I also wanted an easy way for our customers to help those who are being discriminated against under the banner of religion," said Rubyan. "So I set up our online ordering process so that when our customers buy a t-shirt or a hoodie, half of our profits will be sent directly to the ACLU." Rubyan said he feels that allows his customers to make a statement two ways: By wearing smart-looking apparel with a viewpoint and by making a painless donation to a worthwhile organization with a long tradition of helping people.
"In other words," Rubyan said, "they can exercise their free speech rights while helping others whose constitutional rights are being restricted." He said they're thrilled to be able to give to an organization that has given so much and done so much good over the years.
"Our customers are passionate about their beliefs," Rubyan said. "They want to have a sense of belonging while also standing out in the crowd." Added Rubyan, "We made it as easy as we could for our customers to shop, click, donate. We do all the rest and the ACLU gets a boost."
About Loudmouth Tees
Loudmouth Tees was founded in 2017 and serves those who want quality casual apparel with a viewpoint.
Release ID: 166623