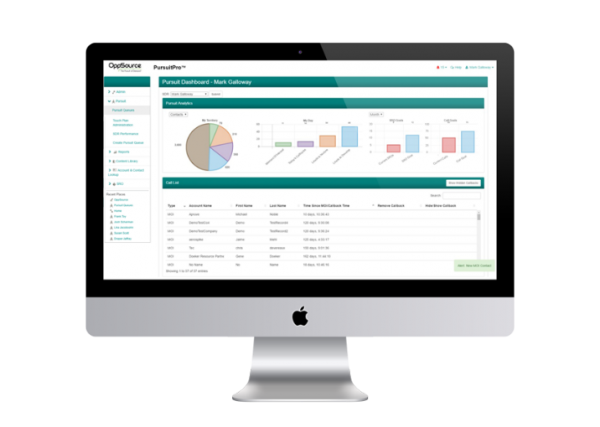 - January 19, 2017 /PressCable/ —
A popular saying in sales is "timing is everything." That's especially true in today's competitive marketplace where sales development teams are in a mad rush strategizing how to beat the other team.
One of the keys to winning is having the right tools, according to sales development software maker OppSource. Its sales automation tools help sales development teams reach the finish line first by providing the edge they need.
Sales development representatives' key role is to find hot leads and hand them off to salespeople. Success takes tracking prospects' behavior, determining if and when they are ready to buy, and beating other companies at reaching them when it is the right time.
Sometimes it is a sprint to successfully hand off that hot lead. Often, though, it is more of a marathon as they must follow up with prospects repeatedly so that leads don't grow cold. That's where sales automation software comes into play.
Sales automation software allows sales development representatives to shift their focus to prospects most likely to be converted. Salespeople close the most deals when they know whom to call, when to call them and what to say.
SDRs can't be expected to remember each interaction, deadline and appointment. Mistakes can be expected from time to time as they juggle prospects.
Sales automation software revolutionizes how they do their job by providing a central system to manage all of their activities and guard against them becoming overwhelmed.
Imagine engaging with a prospect at their moment of interest, right when they are struggling with a problem. That's the edge that the OppSource PursuitPro Sales Development Platform provides to sales development teams.
OppSource sales development software enables sales development representatives to deliver account-based sales ready opportunities that sales teams need. Teams can use the system to create single or multiple phone, email, voicemail and social touch points to enable them to stay on top of each lead.
PursuitPro provides moment-of-interest alerts that lets sales development representatives know exactly when a prospect is engaging with digital content. Engaging with prospects within minutes of their interaction lifts connection rates by as much as nine times.
Its sales development dashboard organizes their sales development goal around the way they work and prioritizes their daily prospecting to help them meet their goals. In an industry where timing is everything, OppSource Pursuit Pro lets SDRs know when the time is right.
For more information on OppSource and its products, call 877-742-8880.
Release ID: 162647