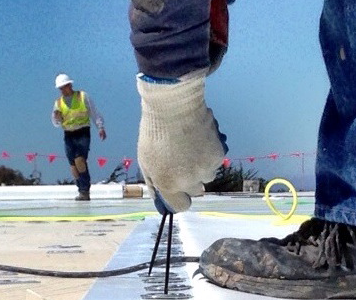 - September 24, 2016 /PressCable/ —
When it comes to commercial roofing, it is always recommended to choose a full-service Commercial roofing contractor http://www.cool-roofing.com that offer all services from maintenance to roofing. Generally, the market is flooded with contractors who address different aspects of roofing systems and tasks. This forces people to hire different contractors for different types of tasks – one for regular maintenance, another for advanced types of repairs, and another for replacing their existing roof. This means increased costs and waste of time. California based Cool Roofing Systems provides full-service commercial roofing services through its offices throughout the country. It is a one-stop-shop for all commercial and industrial roofing jobs – from installation to maintenance to repair.
Cool Roofing, commercial roofing is fully licensed and insured. All its employees are fully-trained in the latest technologies, material use, and safety and quality standards. The company has a policy of free roof assessment for all tasks including re-roofing, maintenance and repairs. Speaking about the company services, Cool Roofing Systems' Jamie Billman said, "As your Commercial roofing contractor, we provide total roofing solutions. Our clients don't have to look for other service providers or suppliers. It's not just about installation, re-roofing, repairs and maintenance. We also provide all the underlying complex services including developing safety plans, custom take-offs, visual safety drawings, and level 1 thermography." The company also conducts core tests to ensure optimal safety standards.
This Commercial roofing contractor deals in all the advanced roofing systems used today. "Part of our company policy is to use the latest and most advanced roofing systems to deliver optimal quality and safety to our clients throughout the United States," added Billman.
The company is a certified installer for membrane and single-ply Duo-Last, metal roof, fluid-applied and coating systems. Billman added, "Cool Roofing's comprehensive roofing service has enabled it to become a leading brand name in the Commercial roofing contractor segment. That's why some of our government clients include the US Navy, US Army Corps, Air Force, Veteran Affairs Department, and Forest Service."
Speaking on the company's 'green' policy, the spokesperson said, "We specialize in installing and working with eco-friendly cool roofing systems. We use roofing systems that provide energy savings, and reduce greenhouse emissions and pollution. This further helps in increasing our client savings in the long-term."
Cool Roofing Systems has offices throughout the country. For more information contact their representative directly at:
Release ID: 134043