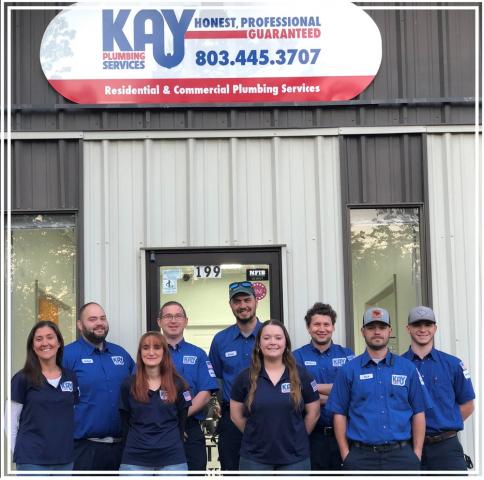 - August 28, 2018 /PressCable/ —
Having worked as a commercial plumber for over 15 years, Chase Wilsey has taken a new position as plumber for Kay Plumbing Services in Lexington, South Carolina. Full details can be found on the About Us page of the company website at https://kayplumbing.com/ .
Konrad Orzechowski, the owner and CEO of Kay Plumbing Services, expressed confidence that Wilsey is ready to handle the job. "Our company is always on the lookout for plumbers that are dedicated to the profession long-term. Chase has 15 years of experience in new construction commercial plumbing, where a wide range of plumbing materials are employed. So he brings with him that particular specialty. Furthermore, he's dedicated to growing his expertise and knowledge, which makes him a great fit for the Kay Plumbing family. With the support system we currently have at Kay Plumbing, our mutual success is imminent," he said.
One of the main challenges faced by the family-owned business is having a sufficient number of plumbers on the team that serve Kay's growing customer base as well as the wider scope of services that are being offered. Another challenge involves having employees that are a good fit for the company's philosophy, which is focused on continuous learning and long-term loyalty.
Wilsey expressed that of all the plumbing firms in the Columbia, South Carolina area, he chose to work for Kay Plumbing. Although Kay Plumbing works on both residential and commercial properties, there are significant differences between new construction and maintenance commercial plumbing. New construction commercial plumbers follow building codes exactly, their work is inspected, and they do the same task every day for weeks or months on end.
Wilsey also expressed that he was attracted to Konrad's work style as well as his management style. "My goal is always to do things right the first time around, which is how Konrad works. Maintenance plumbing is more challenging though, in that you have to figure out what's gone wrong, and it's a different task every day. So when I come across something I'm not sure about I take photos and run it by Konrad first. He's always available to make sure I've got it right. Honestly, he's the best boss I ever had. I'm looking forward to growing with Kay Plumbing, getting my master plumber certificate, and being with Kay a long time."
Wilsey is planning on sharpening his skills in preparation for the master plumber test early in 2019. The exam assesses an individual's skills and knowledge necessary for becoming a certified or licensed master plumber within a particular state.
Customers and current employees are invited to send their messages of congratulations and welcome to the new plumber via the website: https://kayplumbing.com/ .
About Kay Plumbing:
Kay Plumbing is a plumbing services company based in Lexington, SC, serving the cities of Columbia, Irmo, and Lexington. It is owned and operated by Konrad Orzechowski, a second-generation plumber from Poland, as well as a husband and father of three​. Konrad attended university in Lublin, Poland, where he studied physics. But he remains fascinated with plumbing. He believes the true master of the plumbing trade is dedicated to doing the job right the first time, every time. With Wilsey, Kay Plumbing employs five full-time plumbers and three office staff.
Release ID: 398154