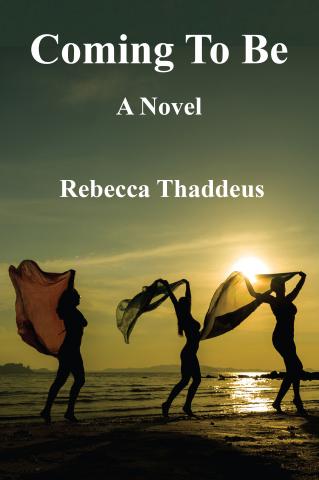 - June 26, 2020 /PressCable/ —
Austin, Texas, 30 June, 2020 – Plain View Press announces the release of Coming To Be by Rebecca Thaddeus, hitting bookstores and Amazon on June 30, 2020.
In Coming To Be: A Novel, a devastating blow forces Carly to reconcile her past, with the help of her best friends. Remembering the music and sexual revolution of the 70's, she re-examines past assumptions and life with a bipolar husband, only to discover the inexplicable joy of Plato's philosophy, "Nothing ever is, but everything is always coming to be." Copies of Coming To Be, paperback (ISBN: 978-1-63210-074-0) or ebook (ISBN: 978-1-63210-075-7), can be purchased through Amazon, retail bookstores, or ordered in quantity from Plain View Press.
This is the author's third published work of fiction. With a doctorate in Composition and Rhetoric from the University of Illinois at Chicago, Rebecca Thaddeus taught at Loyola University, the University of Illinois in Chicago, and Ferris State University for a total of 38 years. With a propensity for historical fiction, her first novel, One Amber Bead (2011), was set during World War II. My Mother's Daughter (2019) was set in early 19th Century Mississippi. This third novel, Coming To Be (2020), recreates the era of the sixties. Her books and blog posts can be found at oneamberblog.blogspot.com.
During the sixties, when college women are demanding equal rights and burning bras, Carly Novak quits school and gives up her newfound freedoms to marry her first love. But this story begins in 1980, when her husband does the unthinkable. Thaddeus juxtaposes the past with the present in this novel about self-discovery and love. The lasting bonds of sisterhood, and the surprising twist of support from her mother, spurs Carly to find her way in a new life. A fast-paced family drama with engaging prose and charming characters… hauntingly true to life. —Catherine A. Hamilton, author of Victoria's War
Rebecca Thaddeus gives vivid descriptions of the places her characters inhabit and enhances a sense of times by evoking pop music songs of the seventies throughout this story of Carly Novak, as she transitions from her strict Polish family to a less inhibited life in college. Her roommates stand by Carly's struggle with a bipolar husband who later leaves her and their children. Raw emotions of a wife and mother facing challenges and fresh insights into bipolarism and the importance of strong female friendships. —Elaine McCullough, Professor Emerita of English, Ferris State University and author of Sleight of Eye
The compelling and moving story of Carly, a woman whose life course is altered by an unexpected and painful divorce. Two lifelong college friends significantly challenge her way of living and help free her from the shoulds and ought-tos and have-tos of her upbringing. —Nancy King, Professor Emerita, Honors Program, University of Delaware and author of Breaking the Silence: A Memoir, and the novels: Opening Gates, Changing Spaces, The Stones Speak, Morning Light, and A Woman Walking
Publisher Plain View Press is a 45-year-old issue-based literary publishing house, a far-flung community of humane and highly creative writers, artists and activists, whose energies bring humanitarian enlightenment and hope to individuals and communities grappling with the issues of our time—peace, justice, the environment, education and gender.
Release ID: 88965522