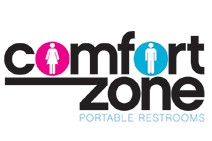 - August 10, 2017 /PressCable/ —
When people attend a concert, festival or sports tournament, they tend to have a few refreshments, be they of the adult variety or simply thirst quenchers to stay hydrated. In the old days many would be happy just to find a row of standard portalets with less than a 30 minute line. Once their turn came they could only hope the "facility" inside was not overflowing, and that they could get in and out before the capacity to hold their breath expired.
At some events that less than ideal scenario still prevails. But it does not have to be so.
Atlanta's Comfort Zone Portables is changing the way event patrons "do their business".
Founded in 2002 by Mark Slade, Comfort Zone has become a leader in providing superior sanitation stations at events throughout the southeast – and beyond. Not only does the company now have a national scope, it constantly develops innovative methods to deliver and service facilities to satisfy event attendees' most basic needs.
In its first years of existence Comfort Zone simply did what others do, only better. They offered standard plastic shell portalets by the truckloads to events of all varieties. What set them apart was quality and service. Customers and event sponsors recognized that Comfort Zone products were newer, cleaner and better serviced than the competitors'.
That was then, this is now. Mark Slade's vision has always been to think ahead and anticipate what customers want but aren't getting – and be the first to deliver it. That foresight manifested itself with introduction of upscale restroom trailers, complete with granite countertops & air conditioning. In such accommodations one might expect a valet to offer a hand towel, splash of cologne & shoe shine after wash up. Comfort Zone does not yet offer the valet service, but it's not as if Slade declines to give it perpetual consideration.
Next came mobile shower, kitchen and laundry facilities. Multi-day festivals present challenges and demands beyond the typical need to "just go". Comfort Zone was there with solutions to needs for which the public thought there would never be a solution. And Slade hardly stopped there.
Markets expanded into areas where mobility and immediate response are even more vital. Disaster relief and military maneuvers create emergency needs and urgency that must be met ASAP, or to paraphrase medical jargon, STAT – "We need this yesterday!"
Fast forward to 2017. Comfort Zone still leads the nation in everything discussed. Slade has a Dutch partner delivering the same standard of excellence in Europe and Asia. An international co-op unites the two to both improve on (A) basic efficiencies and quality and (B) forecast, innovate and develop the next generation of products and services. Never satisfied with status quo, they intend to lead for the foreseeable future.
This brings things to a whole new realm. Sustainability, environmental concerns and green thinking hardly make up a new global movement. Until recently, that movement has never been on anyone's radar screen with regard to portable toilet facilities.
With Comfort Zone's introduction of POP UP3 that all changed. Instead of conventional bulky fiberglass stands to which the public has been accustomed for decades, the POP UP3 system ships compact, and is far more hygienic, efficient and less wasteful.
Consider this. Until now a mega event required delivery of hundreds, perhaps thousands, of portalets. Whether they be basic or luxury trailers, by their nature they are empty containers of air, requiring substantial resources to deliver, maintain and remove.
With the POP UP3 system, facilities ship in the equivalent of solid cubes. Once on site crews assemble them into stations that are exponentially more comfortable, efficient and hygienic for both patrons and maintenance staff. Instead of a station simply being designated "women" or "men", entire gender specific compounds are created to accommodate gals and guys with discretion and in privacy not previously available.
Further, waste is continuously removed via a closed vacuum driven plumbing system. None of what was formerly the inevitable end of day or end of event overflow, spillage and toxicity. Never again.
At each event Comfort Zone sanitizes and services every last component – on site – to ensure facilities are in like new condition for the next function.
For 15 years Comfort Zone had pioneered an array of products and services to enhance enjoyment of event attendees across America and beyond. Going forward they further pledge continued innovative technology solutions to yield environmental savings for both event sponsors, guests and the planet.
Release ID: 227330