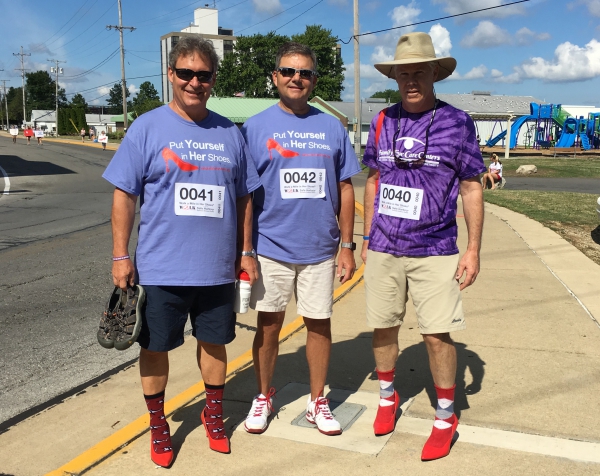 - October 31, 2016 /PressCable/ —
Dr. James Karpac, a Columbus orthodontist, participated in a charity walk for domestic violence awareness in Sandusky, Ohio on Saturday August 6th, to benefit Safe Harbour Domestic Violence Shelter of Sandusky. "Walk a Mile in Her Shoes," The International Men's March to Stop Rape, Sexual Assault & Gender Violence, was created in 2001 as a novel and even fun way to create awareness about the difficult subject of sexualized violence against women.
Men who participated in the event were asked to "walk a mile in her shoes" by donning bright red high heels and attempting to walk an entire mile. This was the second time Sandusky has hosted the annual walk. Held in Shoreline Park, the event was very successful, boasting a turnout of over 100 men. Dr. Karpac made it 100 yards in the red pumps before he had to take them off.
"I couldn't go the distance!" laughs Dr. Karpac. Several participants in the mile-long march complained about the pain of wearing high heeled shoes, and said it made them think seriously about what domestic abuse might feel like.
Based on the old adage that one can't fully understand another person and their experiences until "walking a mile in their shoes," the organization's goal extends beyond that of the funds they raise for local domestic violence shelters, rape crisis centers, and other sexual violence prevention, education and remediation programs. Frank Baird, the walk's founder, wants to get people talking, and men in particular.
"Violence against women does not just affect women," Baird says. "Men are hurt and angered when women they care about are raped." Baird goes on to explain that persuading men to think differently about relationships, gender roles, and sexal violence is one of the keys to preventing this type of abuse in the first place. Baird is currently a Marriage and Family Therapist based in California. More information about Walk a Mile in Her shoes and its founder is available at http://www.walkamileinhershoes.org/.
Dr. Karpac has orthodontic practices in both Dublin and Gahanna. The doctor and his staff love to help make people smile, both in the office and by supporting the greater community at events such as this one.
More information about Dr. Karpac and his practice can be found by visiting https://www.jameskarpacortho.com/.
Release ID: 134065