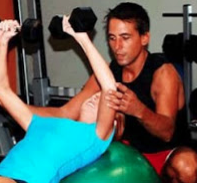 - May 18, 2018 /PressCable/ —
COLUMBIA, SC–T.J. Lyerly, the owner of Lyerly Fitness and a certified personal trainer in Columbia, South Carolina, has received multiple five-star reviews for his dedication to helping others become the healthiest version of themselves.
T.J. Lyerly has always operated with the goal of helping others attain their fitness goals keeping in mind that changes and improvements in an individual's health tend to spill over into other areas of their lives.
"I have enjoyed the benefits of organized physical fitness for most of my life and experienced my first training program as a teenager at the Columbia Athletic Club over twenty years ago," said Mr. Lyerly. "My ultimate goal is to help my clients achieve their fitness goals with the expectation that they will also succeed in other areas of their lives as a reflection of their success in health."
It seems that Mr. Lyerly's hard work word and dedication to his clients is paying off as he has been receiving multiple five-star reviews raving about results and his rapport with his clients.
One reviewer states, "T.J. is pleasant, professional, conscientious, and very experienced. He is careful to help you work at the edge of your capabilities in order to make steady progress." Another says, "T.J. Lyerly Fitness works. T.J. keeps you moving from one integrated workout exercise to another movement in his private studio. He is careful to meet you where you are to achieve your workout goals. His studio is in a great location where it's easy to stop in for a workout. We have been pleased that he works well with couples, and we know several other friends who rely on T.J. as their trainer, too. We have tried going to the gym, but like many others, we drop off after a while. Having a trainer like T.J. gives you a time frame to meet and someone knowledgeable who will help guide you through exercises in his private studio."
Lyerly Fitness is a premier private fitness center owned by certified personal trainer, T.J. Lyerly and offers services such as private fitness training, group fitness training, exercise boot camps, nutritional advice, and customized personal training programs for clients in and around the Columbia, South Carolina area. Those interested in learning more about Lyerly Fitness are encouraged to visit http://lyerlyfitness.com/index.html.
More reviews of Lyerly Fitness can be found and read at https://www.google.com/search?q=lyerly+fitness&rlz=1C5CHFA_enUS785US786&oq=lyerly+fitness&aqs=chrome..69i57j69i61l3.5622j0j7&sourceid=chrome&ie=UTF-8#lrd=0x88f8afc0aa7b2cdb:0xe9f35c0a2f0fcf4e,1.
Release ID: 346835