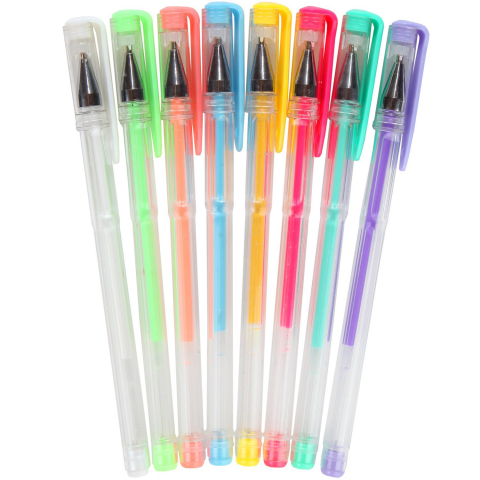 - May 12, 2017 /PressCable/ —
This month, Teddy Shake celebrates their rainbow colored gel pen set and the success it has had since the release of the pens just six months ago. During this time, the pens have grown to be one of the best-selling gel pen sets on Amazon.com, the exclusive selling partner for the gel pens. As the customer base has grown, Teddy Shake has learned a lot about what is most important to the customer in a gel pen. They have decided to use this information to build a new vision statement for the company.
The rainbow gel pen set by Teddy Shake offers 105 pens of many different colors varieties. Some of the color groups included in the set are neon color group, milky color group, metallic color group and rainbow color group. The goal of Teddy Shake is to make sure the set includes a pen for every occasion. These pens are acid-free, lead-free, and non-fading, making them safer for the environment, and safe for use by children. Each Teddy Shake gel pen contains more ink than other gel pens, 60% more to be exact. This translates into many more hours of writing, drawing, and creative use. The ink flows smoothly when writing, and the specially designed tip of the pen makes sure the Teddy Shake pens do not skip or bleed through the paper when used for coloring or writing. Some of the favorite uses for the Teddy Shake pens include journaling, drawing, scrapbooks, and adult coloring books.
Twenty-six customers have written reviews of the Teddy Shake gel pens, with eight new five-star reviews being received just this month. A verified purchaser, Starkey wrote "I have kids, and they love to color. I bought these because there are so many pens… now I can afford for the kids to lose a few here and there. Kids say they like the many colors! I tried a few with them while they made pictures and I like how smooth they color. Better then a few color pens at the dollar store. Shipment was fast."
Currently priced at $19.99, the Teddy Shake colorful gel pen set is available exclusively on Amazon.com. Orders over $49 will receive free shipping.
About Teddy Shake: "Desiring to make the world a more colorful and creative place, we at Teddy Shake work every day to ensure you have the best gel pens sets on Earth. With hundreds of colors and various tones, we put our gel pens through massive Research and Development tests to make sure your creative flow never stops, and your creations are always perfect."
Release ID: 199023