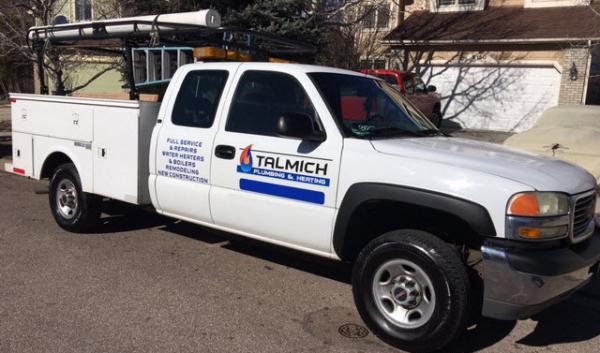 - September 24, 2020 /PressCable/ —
Talmich Plumbing and Heating, a Colorado Springs-based water heater repair, plumbing services, boiler repair and drain cleaning company with more than 30 years of experience in all manner of plumbing repairs, is helping customers handle plumbing and other emergencies during the COVID-19 pandemic, showcasing social distancing and hygiene procedures in these most uncertain of times.
According to these plumbers in Colorado Springs, this is not the time to remodel one's house – it's about "essential services" that people need to have to be able to survive. However, the situation has become more complex when the issue of a broken water heater or flooded basement come into play, and Talmich has been helping customers navigate interactions that may require technicians visit their homes to address such concerns.
"Routines have been upended as the world reels from the coronavirus pandemic, with gatherings being cancelled, businesses being shuttered and people encouraged to stay home as much as possible," says Tom and Erik Talmich, the father-and-son duo who own Talmich Plumbing and Heating. "It's a question many homeowners have asked us over the past few weeks: 'Should regular plumber appointments be kept or cancelled?'
"The key, as we see it, is changing behavior for the short-term so risk to ourselves and other people are limited; in so doing, our company is adhering to guidelines from the Centers for Disease Control and Prevention, keeping lines of communication with customers open and implementing social distancing and hygiene procedures such as proper handwashing techniques and using alcohol-based hand sanitizer when it comes to our technicians. We also instruct employees to stay home if they are experiencing any symptoms that may be COVID-related."
For more information visit https://talmichplumbingheating.com/water-heater-installation-repair/
Talmich representatives like Tom and Erik go on to report that while they don't typically mind when customers watch their technicians work, they have been asking that they remain at least six feet away – the minimum distance recommended by the CDC. Technicians have been washing their hands, using sanitizing wipes and wearing masks as much as possible during this time.
"If any work can be done outside, such as one of our techs assembling a pipe, this is preferred, as they should really only be coming into a home for the minimum amount of time needed to do the job," adds Erik Talmich.
To make it easier to avoid transmission by touching shared surfaces, Talmich Plumbing and Heating has also been advising homeowners clear a path to the workspace ahead of time and to leave all doors open so workers don't have to touch doorknobs or other surfaces. What's more, customers are being told to identify points they don't want touched and covering them, with Talmich associates even going so far as to suggest wrapping banisters in wrapping paper and then tearing it off when technicians leave; this will, according to Talmich reps, provide the homeowner peace of mind when wondering if he or she wiped down every surface the worker may have touched.
Both Tom and Erik Talmich say leaving the house while repairs take place is the best way of creating distance.
Talmich Plumbing and Heating, also specializing in water heater installation and water heater replacement, is located at 9150 Bellcove Circle and can be reached by calling (719) 822-0448. For more information visit their above referenced website.
Release ID: 88978115