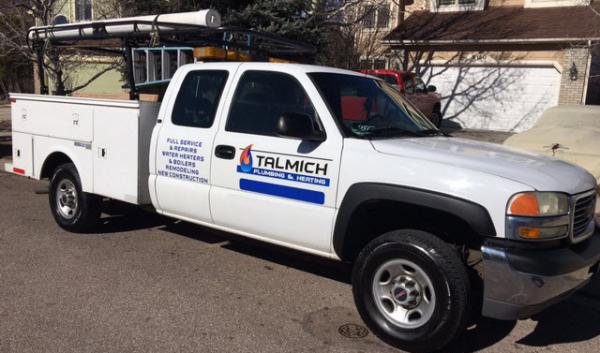 - May 28, 2019 /PressCable/ —
Colorado Springs, CO – May 25, 2019 - Licensed, bonded and insured, family-owned and boasting more than 30 years of experience, Talmich Plumbing and Heating has consistently delivered elite plumbing services for homeowners and businesses in the Colorado Springs area, ultimately setting the standard for impeccable customer service and superior workmanship. Headed by father and son team Tom and Erik Talmich, the company ensures best-in-class solutions for clients, its field reps always equipped with the most modern tools and state-of-the-art equipment to handle any project, large or small.
"The reasons why we are the best choice for plumbing repair services in our area begin with our experienced, professional and friendly staff," explains Tom Talmich. "Our technicians get the job done right the first time, and appointments are made according to clients' schedules – not ours. What's more, every effort is made to make a solution to a plumbing problem fit a budget, with cleanliness always being one of our priorities, along with 100-percent customer satisfaction."
Talmich's most popular services remain leak diagnosis and repair, drain cleaning and unclogging, faucet installation repair and replacement, shower and shower head repair and replacement, sink installation and repair, toilet installation, leak repair, clog removal, all manner of plumbing and heating fixtures, main sewer line repair and more. While the company also offers heating, air conditioning, boiler and HVAC services, its primary focus is on general plumbing repairs, drain cleaning, water heaters/water heater repair, bathroom remodeling and heating/furnace repairs.
In the area of emergency services, Talmich plumber technicians are fully equipped with modern tools and the expertise required to deal with every kind of pipe leak, broken faucet, clogged drain or overflowing toilet, offering solutions such as leakage repairs, joints/pipe repair and replacement, clogged drain lines and floor drains, main sewer line repair/cleaning and related services, toilet repair services, kitchen and bathroom fixture repair, leaking faucets and showers, blocked pipes and more.
For more information visit https://talmichplumbingheating.com/
"Plumbing systems are an integral part of every home, as they form the centerpiece of everyday home life," adds Erik Talmich. "In order to keep daily routines on track, it is imperative that a home's plumbing run smoothly – and that's what the plumbers at Talmich Plumbing and Heating are all about. It is an unfortunate reality that even the most premium of plumbing systems are prone to failure over time, but our experts provide full-service plumbing diagnosis, installation, repair and maintenance for any home or business, providing the peace of mind all our customers look for."
When customers consider a remodel of their home, Talmich representatives stress how important a bathroom remodel is, pointing out the fact that no one wants a bathroom to feel outdated or as if it's in disrepair. To that end, the company offers cost-efficient options in the area of bathroom remodels, with services that encompass new bathroom flooring, countertops and faucets plus refurbishing of walls, sinks and bathtubs.
"It's just a fact of life that a home or business owner can't ignore a broken fixture, damaged pipe or clogged toilet for long," conclude the Talmiches. "These systems in a home or business need to work properly all year long, and customers can rely on Talmich Plumbing and Heating to keep all of their plumbing in proper working order."
Talmich Plumbing and Heating is located at 9150 Bellcove Circle in Colorado Springs and can be reached by calling (719) 822-0448.
Release ID: 517216