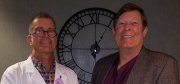 - October 25, 2016 /PressCable/ —
Dr Thomas Fry, of Colorado Hand & Arm PC in Wheat Ridge, which offers high quality arm and hand treatments to patients around Denver suffering from arm, wrist and shoulder injuries, has just won the Patient's Choice award for the second year in a row. The honor, bestowed by MDx Medical Inc, means that his patients think highly of him and consistently selected him as the top choice physician.
More information can be found on the Colorado Hand & Arm PC website at: http://coloradohandandarm.com.
Thomas Fry was born in Columbus, Ohio, and studied at Notre Dame, before graduating from Ohio State medical school. He is the Chief of Hand Surgery at Tripler Army Medical Center in Hawaii, and is a member of the AAOS and the ASSH.
The Colorado Hand & Arm PC website explains that the practice is dedicated to providing excellent and compassionate patient care. It has a team of the best arm and hand specialists available so that patients in Denver needing medical attention for problems with their arms, wrists and shoulders can get the best help in timely fashion.
Common hand and arm injuries that can require the attention of a specialist at the practice include carpal tunnel syndrome, trigger finger, ganglion cyst, tendonitis in the wrist, elbow or shoulder, tennis elbow, fractures and sprains, and arthritis.
Other ailments to look out for include hand or finger pain, wrist pain, arm and elbow pain and shoulder pain. Any people around Denver suffering from any of these symptoms are encouraged to get in touch with Colorado Hand & Arm PC to get the best attention for their situation.
Detailed reports on each type of injury can be found by browsing through the patient portal, where PDFs are provided with more information. Interested parties can find a range of frequently asked questions answered on the practice website, helping to clear up concerns before they sign up or book an appointment. Topics covered include the types of insurance offered and how billing works, as well as medical queries.
Patients wishing to make an appointment can contact the clinic on (303)421-1440.
Release ID: 140649