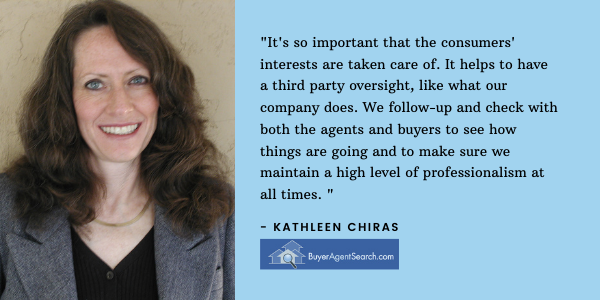 - May 21, 2021 /PressCable/ —
The National Buyers Agent Association recently revealed proven ways and shared tips for potential home buyers to find the right buyer agent and avoid big mistakes in the current seller's market.
Barry Miller, the host of the Consumer Real Estate Radio Show in Denver, Colorado, finds that the number one mistake of first-time homebuyers is not carefully picking or hiring the right real estate buyer agent. See the full story here: https://buyeragentsearch.com/find-the-right-buyer-agent
Kathleen Chiras, the association manager, highly recommends that home buyers interview at least 2-3 buyers agents before deciding who they want to work with. She also adds, "Don't just choose a realtor on the basis that they are a relative or a friend. The logical explanation is to get a much more objective opinion throughout the home buying process. Hire the agent on the basis of their ability to provide high-level fiduciary services and represent your best interest."
Chiras has been providing top agent recommendations for over 25 years to aspiring homeowners. It is vital in her work to make sure that she only recommends top-rate fiduciary buyer agents. She worked as a sympathetic social worker early in her career and has a Master's in Social Work. Her experience buying her home in Colorado many years ago was her turning point in making sure buyers will have someone in their corner when they purchase a home.
Lina M, a successful homebuyer in Roanoke VA had this to say about the service, "National Buyer Agents Association is such a great tool! Otherwise, I would have had to spend a lot of time looking for buyers agents that were state-certified elsewhere. The staff was also so on top of my request and kept checking with me, to see if I found an agent and if I chose one. They were all very kind and I truly appreciate their work in helping people find agents that can look out for the buyers."
Homebuyer guidance is provided by the National Buyer Agents Association, managed by Skyfor. A list of agent contacts can be found for all 50 states at this link: https://buyeragentsearch.com/associations-and-real-estate-agents/. This free list of agents is available 7 days/week. Live staff is available to discuss specific questions by calling their office at 800-383-7188. The association and its national website have 100% five-star reviews on both Google and the Better Business Bureau, where it is an accredited business.
Skyfor also manages the non-profit association for buyers seeking to buy in other states including Colorado. This state group is the Colorado Exclusive Buyer Agents Association. Visit https://HomeBuyersColorado.org to see the many resources offered to buyers hoping to purchase in Colorado. There are also many home buying or selling tips found on its website, and instant access to a list of buyer agents on the inquiry page.
Release ID: 89017261