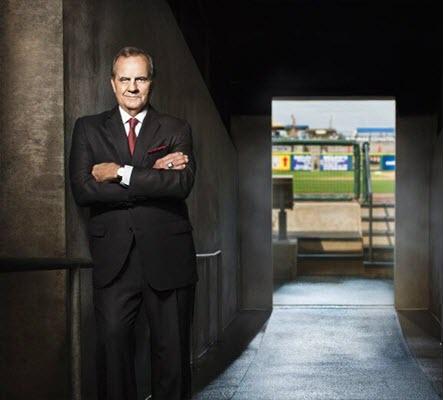 - June 16, 2019 /PressCable/ —
New York City, NY / Major League Baseball is in full swing with Joe Torre as MLB's Chief Baseball Officer. Torre was a national spokesperson for CohnReznick, one of the top advisory, assurance, and tax firms in America, for a winning advertising campaign.
CohnReznick is currently collaborating with Major League Baseball to reveal, explore, and celebrate the business behind the game of baseball. Their sponsorship also includes the creation of two new video series, the "Business of Baseball" and "Front Office Focus." The series examines the strategic issues MLB franchises tackle on and off the field.
Businesses of every kind face similar strategic and leadership issues every day. Torre's advertising campaign for CohnReznick faced many challenging issues of its own prior and during the day of shooting.
CohnReznick ad campaign featuring MLB Executive Joe Torre as their National Spokesperson. Source: Michael Grecco.
"Try finding an appropriate baseball stadium that actually looks like a professional MLB ball park, during the peak of spring training. Now that is a challenge!" shared Michael Grecco, Celebrity Photographer who was retained to shoot the CohnReznick campaign.
MLB's Philadelphia Phillies Team have their spring training every year at Bright House Field (now Spectrum Field), a baseball stadium located in Clearwater, Florida. This was one of the only stadiums that would work due to Torre's busy travel schedule.
"The ultimate problem was getting a stadium to allow us to shoot while all of their teams were training there. Everyone said no, until I came up with the idea and suggested that we have Joe's manager make the request. 'Yes sir, when would you like to shoot here' was the reply we got. Now that's respect!," said Grecco of Torre's name recognition.
Serious creativity was needed by Grecco and his team to make this ball park look like a Major League Baseball Stadium. A small window of a few hours was all the time Grecco and his team had to pull off a celebrity photoshoot and video shoot, right after the Phillies finished practice for the day, and before Torre had to catch a plane later that evening.
See the winning advertising campaign, including images and video.
About CohnReznick
CohnReznick turned 100 years old in 2019. Originally founded by Julius H. Cohn in Newark, New Jersey in 1919. The firm has grown to become one of the top advisory, assurance, and tax firms in America.
According to AccountingToday.com, CohnReznick ranked 16th on Accounting Today's 2019 "Top 100 Tax and Accounting Firms" with an estimated $645M in revenue and over 2600+ employees with 25 office locations. Currently headquartered in New York City, Frank Longobardi serves as the CEO.
About Joe Torre
Torre was appointed by Commissioner Bud Selig in 2011 as Major League Baseball's (MLB) Chief Baseball Officer, overseeing areas that include Major League Operations, On-Field Operations, On-Field Discipline and Umpiring.
As a former player, manager and television color commentator, Torre ranks fifth all-time in MLB history with 2,326 wins as a manager. With 2,342 hits during his playing career, Torre is the only major leaguer to achieve both 2,000 hits and 2,000 wins as a manager.
Torre was a MLB player for the Milwaukee / Atlanta Braves (1960-1968), St. Louis Cardinals (1969-1974) and the New York Mets (1975-1977). He was a MLB manager for the New York Mets (1977-1981), Atlanta Braves (1982-1984), St. Louis Cardinals (1990-1995), New York Yankees (1996-2007) and the Los Angeles Dodgers (2008-2010).
Torre concluded his third and final season as manager of the Los Angeles Dodgers, whom he led to the National League Championship Series in 2008 and 2009. Previously, he spent 12 seasons as manager of the New York Yankees (1996-2007), guiding them to the Postseason every year, including six World Series appearances and four World Championships (1996, 1998-2000).
It is estimated that Torre has accumulated a $60M net worth, mostly from his baseball fame.
About Michael Grecco
Michael Grecco is an extensive award-winning Celebrity Photographer and Commercial Photographer with a photography career spanning 41 years, with studios in both Los Angeles, CA and New York City, NY.
Grecco's cover shoots of other business and entertainment industry heavyweights are numerous. Other notable publications and magazine covers Grecco's photography work has graced, include: Forbes, Business Week, TIME, Newsweek, People, Harper's Bazaar, GQ, Maxim, Esquire, Playboy, New York Magazine, LA Times, TV Guide, Entertainment Weekly, ESPN Magazine, Men's Health and Sports Illustrated, just to name a few.
Grecco can be found traveling the globe over 200+ days each year on high-end commercial, advertising, editorial and entertainment photoshoots and cover shoots for many recognizable celebrities, iconic business greats and global brands. For more information on retaining Michael Grecco and his creative team, call +1-310-452-4461 or visit https://MichaelGrecco.com
For News Media and Press Inquiries
Contact Rachel Adams, Media Relations at Photographers PR. Email rachel.adams@photographerspr.com or call +1-702-997-1222 ext.625.
Release ID: 524860